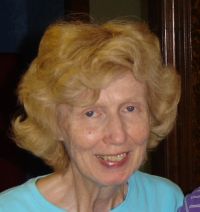 November 7, 2010
Visitation
Thursday, Nov. 11th from 3-4 p.m.
Service
Thursday, Nov. 11th at 4 p.m. Moreland Funeral Home
FITE
Mary Alice Fite, 77, passed away Sunday, November 7th in Westerville Ohio. Mary Alice was born to Lowry and Mary Lee Stoops in Morgantown, West Virginia on November 15, 1932. She graduated from Morgantown High School in 1950 and attended West Virginia University from 1950-1953. She received her BA in English from the University of Houston in 1954. Mary Alice married an Air Force officer and lived in many states and several countries, raising her four children and teaching at elementary schools. She and her family eventually settled in Whitehall, Ohio. She attended The Ohio State University, graduating with a MA in English Literature in 1976. She served as a substitute teacher in the public schools and also taught at Park College in the 70s. In 1983, Mary Alice took a position as an English teacher at Columbus School for Girls (CSG), where she worked until her retirement in 1996. While at CSG, she was the chair of the English department and the advisor to the student yearbook. Mary Alice was passionate about both her teaching and her CSG students, and her students held her in the highest esteem, as evidenced by the many appreciative letters she received from them over the years. Mary Alice moved to Westerville in 1998. She was an active member of the Church of the Messiah Methodist church.
Mary Alice is survived by four children and their spouses: Susan and Steve Corbett, Las Vegas; Franklin Jr. and Sharon Fite, Seattle; Rich and Kathleen Fite, Clifton, VA; and John and Kelly Fite, Westerville. She is also survived by ten grandchildren, Robert, Rachael, Ben, AJ, Bret, Sean, Chrissy, Ryan, Erica and Katie and one great-grandchild, Payton. A service will be held Thursday, November 11th at 4 p.m. at MORELAND FUNERAL HOME 55 East Schrock Road, Westerville, Ohio where friends may visit one hour prior to service. Rev. Jim Wilson officiating.
Condolences
Stahl and Family - Nov 11, 2010
The Stahl Family sends our heartfelt condolences. We will keep all of you and your family in our prayers. Mrs. Fite will always be remembered with fondness. Sincerely, Mom, Dad Stahl, Scott, Christine, Jane, Chris and the girls four.
Doris Decelle - Nov 9, 2010
Dear Frank, Rich, Susan and John – I wish I'd had the opportunity to know your mom better but the families are so scattered that it is a rare moment when we can all see each other. For the few times that I was in touch with your mom she impressed me as being a wonderful and caring person and always interested in getting to know the person she was with personally. A beautiful person inside and out. My heart goes out to all of you at this very sad time and please know that you are in my thoughts and prayers. Take comfort in remembering the many precious moments that you had with her and keep them in your hearts forever. Love and God Bless, Mom Decelle
Audrey Cronin - Nov 9, 2010
Rich, I am so sorry for your loss. God bless you and your whole family. We have been thinking of you all during this difficult time. Take care. Sincerely, Audrey
Rodd Lawrence - Nov 9, 2010
Rich: I'm very sorry for your loss. I remember your mother as a very caring person.
Kyle Katz - Nov 9, 2010
Rich:
My sincere condolences on your loss to you and your entire family. I am forwarding the notice of your mother's passing to my sisters; they were all taught by her at CSG.
Again, I am sorry for your loss.
Kyle Katz
Blanche Choate - Nov 9, 2010
Dear Fite Family , I am so saddened to hear of the death of your Dear mother, I will always remember
Mary alice as a warm and and loving person, I know you will all miss your Mother very much.
I pray that you will be conforted by these words the Bible says to be absent from the body is to be with the Lord .
also you can be assured that john and Kelly took great care of Mary Alice, I have only met some of you once but that was enough to tell me that you all are loving good people, I am so happy to have John as my Son inlaw, I love him very much , I know Kelly cound't have found a better person if she looked the world over, I know the grandchildren will miss her, They will all remrmber her as Me Me,
Susan I know how hard it is living so far away from your mother it is very hard for me not to be able to just jump in the car and run over to see kelly john and the kids. I wish I could be their for you all so sorry , God bless you all ,
With our Love Sincerely Blanche And Herb Choate
Susan Marie Pursglove Bartlett - Nov 8, 2010
Dearest Susan, Frank, Richard, John and family,
For many years your mother played a huge role in my life. I spent much of my adolescent and teenage years in your home and I have so many memories of the times we spent together. Your mother taught me how to fold towels and still, to this day, I fold them exactly the way she showed me. She taught me her spaghetti recipe (with mushroom soup) which i adore to this day. We would talk for endless hours about family, friends, the air force, moving, husbands, wives, children and dogs–she always wanted to know what I thought and I knew she was really interested in knowing about me which of course partially explains why she was so admired by her students–it makes a huge impact on the learning process when young people are treated with respect.
I was with her and remember how scared and brave she was when she was operated on for thyroid cancer. I think she was only 28 years old.
She was a young mother with four little kids and she was always dressed beautifully–she looked elegant in shorts. I wanted to dress and look just like her.
My life was enriched by the times we shared together and I will always cherish those memories.
I know Mary Alice will be deeply missed and my heart and prayers are with you all.
Much Love,
Susan