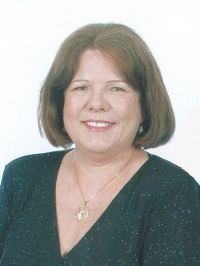 February 2, 2011
Visitation
Thursday 2-4 and 6-8 pm
Service
Friday, February 11th at 11:00 AM Moreland Funeral Home
MECHLING
On February 2, 2011 heaven was blessed to receive Diana L. Mechling, age 59, of Westerville, OH. Although her time on earth was tragically short, her beauty, presence and legacy will forever nurture her devoted husband of 38 years, Mike; loving father, Don Mason; treasured sons, Jeff and Doug (Amanda); cherished grandchildren, Skylar, Megan, Landen and Jake; brother, Mike (Tracey) Mason; sister-in-law, Phyllis (Barry) Ingram and brother-in-law, Bob Scott. They all share our loss as well as Diana's many dear friends who have given their love and support through this difficult time with special thanks to Gayle Carr. Diana is preceded in death by her mother, Shirley Mason. Diana's smile, laugh, grace, tender touch, selflessness and ability to mend hearts and things such as her grandkid's stuffed animals, will be sorely missed, but always remain in our hearts. Her spirit will live on through her loving family and inspire us to greater heights as we continue to honor her legacy. Diana was a member of "Women of Westerville", formerly known as "Welcome Wagon". Friends may visit Thursday from 2-4 and 6-8 p.m. at the MORELAND FUNERAL HOME 55 East Schrock Road, Westerville where a service will be held Friday at 11 a.m.. The ministry staff of the Vineyard of Columbus will officiate. Interment Blendon Central Cemetery. Contributions may be made in Diana's name to Westerville Caring and Sharing or the Arthritis Foundation.
Condolences
Gladys Hardin - Feb 19, 2011
I had never met Diana but it seemed like I knew her well because Tracey felt Diana was not only her sister-in-law, but also her best friend. I am so saddened by your family's loss but hope you can take comfort in knowing she lives forever in everyone's hearts.
Tracey's Mom, Gladys
Dawn Scott - Feb 9, 2011
I knew Diana only through seeing her at her grandchildren's birthday parties. James and I are friends with her sons, Jeff and Doug. I know as a mother, the greatest hope you can have is for your children to grow up and become great people in the world. So, what I would like to say as a testament to the type of mother she must have been, she can be proud in knowing that she raised her sons to be great men who we are happy to know and have in our lives. Our heartfelt sympathy goes out to Jeff, Doug and her husband Mike. May you find comfort and peace within your thoughts and happy memories of your mom and wife. We are so very sorry for your loss.
Janice Tallman - Feb 9, 2011
My heart goes out to the entire family. I did not personally know Diane, but my sons Travis and Tyler did. They thought highly of her and have been deeply affected by this tragedy. My deepest sympathy to Jeff and Doug and their father. Heaven has truly welcomed home an angel.
Richard/Denise Yenser - Feb 8, 2011
Mike and Family –
We were so sorry to hear of Diana's passing. It seemed like only yesterday that we were all
students at MHS and MUM. She was a great lady.
Our thoughts and prayers go out to you and the
entire family.
Richard and Denise Yenser
Margie Rody - Feb 8, 2011
Dear Mike and family, I am heartbroken for you all. You are in my thoughts and prayers. May God bless you during this difficult time.
Sincerely,
Margie Rody
Jen, Ray, Cade, Ty & Reis Williamson - Feb 7, 2011
Our thoughts and prayers go out to Doug, Amanda and the entire Mechling family during this difficult time. May the Lord bless you and keep you and give you peace.
wendy mechling - Feb 7, 2011
I am so sorry for this tragic loss. We loved Diana so much. She will always remain alive in our hearts and in our memories. I will always and forever do anything for her husband, father, brother, and sons that should never be hesitant in including me in their lives. I will raise her grandchild openly and honestly with her son, together we will make sure our children never forget their beloved Grandmother. We were lucky to have had her in our lives which have been forever changed on Feb. 2nd. We love you Diana….forever and always. God needs you now. Watch over us and guide us and we will meet again someday.
Craig & Kelli Woycke - Feb 7, 2011
Our sincere condolences to Diana's family. Words cannot express how sorry we are for your loss.