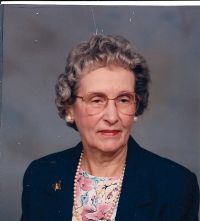 January 10, 2010
Visitation
Saturday January 16, 2010 10-11 a.m.
Service
Saturday, January 16, 2010 11A.M.M Grace Evangelical Lutheran Church
HABERMAN
Clara Ann Haberman, Age 85, of Columbus, Passed away on her father's birthday, January 10th. Born June 21, 1924 on a farm near Galena, Ohio, the youngest child of Fred & Olga Haberman. Attended Galena Elementary and High Schools and graduated from the latter in 1942. Clara retired from the American Lutheran Church, initially at ALC headquartrs on East Main Street in Columbus, and also attended business college. At the time of the 1960 merger, Clara chose to stay and become secretary in her home congregation, Linden Lutheran of Columbus, for two years before becoming secretary to Ohio District President and continued to serve as Administrative Secretary. She retired from the "Working World" at the end of 1987. In addition to her church work, Clara enjoyed many years of service as a Red Cross nurses' aide and at the old St. Francis, Mt. Carmel and Children's Hospitals as well as a volunteer at Riverside Hospital. She also served Lutheran Senior City for ten years as a volunteer receptionist. Besides her parents, she was preceded in death by sister, Margaret Haberman; brother and sister-in-law, Fred & Elizabeth Haberman; nephew Paul Haberman, and niece Barbara Martin. Survived by nephew, Phillip (Laura) Haberman of Centerburg, OH. 2 great nephews, David (Brittney) and Paul Haberman. 2 great nieces, Kerry Martin and Laura Pack.
Great great nephew, Benjamin. Close friends, Jim & Judy Oliver of Columbus, and many more friends. Funeral service will be held 11:00 a.m. Saturday, January 16, 2010 at Grace Evangelical Lutheran Church, 100 East Schrock Road, Westerville, Oh. Pastor Prudence Wood Officiating. Private interment, Fancher Cemetery, Westerville, Ohio. Friends, if they wish, may contribute to Heartland Hospice, 6500 Busch Blvd. Columbus, Ohio 43229.