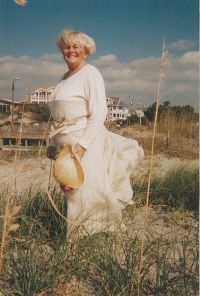 December 31, 1926 - October 23, 2012
STARKEY
Barbara Jean Starkey passed away very peacefully on October 23, 2012 at the age of 85. At the time of her passing, she was surrounded with love by five of her children and spouses along with many grandchildren. She was born Barbara Jean Ervin, in Ashtabula Ohio on December 31, 1926. She is preceded in death by her parents Lance and Gladys Ervin, her brother Russ and a son, Robin Lance Starkey. She is survived by her wonderful sister Monna (Michael) Mattiace of Hackettestown NJ, children Frank Jr (Bonnie) Starkey of Allen TX, Karen (Robert) Sharkey of Ashtabula OH, Mark (Marty) Starkey of Westerville OH, Shawn Starkey of Ashtabula OH, and Monna Anderson of Chillicothe OH. Barbara's grandchildren; Jeremy, Erika, Lance, Caitlin, Aaron, Hannah, Heather and Ciana. Great grandchildren; Jesse, Taylor, Brooke, Chloe, Madison and soon to be great grandson Lincoln. Her legacy continues. She loved her family very much . She also enjoyed nature and spending time at the beach.
Condolences
Wesley Malin - Dec 26, 2012
Monna (Michael) Mattiace of Hackettestown, N.J.;
I would like to contact MONNA .( Barbara Starkey's sister )Appreciate if can foward my
email address to her . Thank you, Wesley Malin.
Cebu, Philippines.
Debbie Dondrea Galant - Oct 30, 2012
Frank, Karen, Mark, Shawn and Monna, I just wanted to tell all of you how sorry I am for the loss of your mother. It is always very difficult to lose a parent. It is a lovely obituary and a great picture of Aunt Barbara. I will always have fond memories of her as she was kind to me and always in good spirits. My prayers are with you. Cousin Debbie