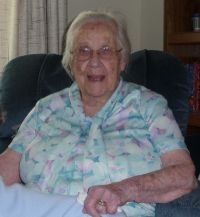 May 2, 1912 - February 17, 2013
Visitation
Thursday, February 21, 2013 from 10 a.m.-1:30 p.m.
Service
Thursday, February 21, 2013 at 1:30 p.m., Moreland Funeral Home
PEER
Alice M. Peer, age 100, of Westerville, OH. February 17, 2013 at home. Born May 2, 1912 in Leon, Iowa. Graduate of Ashland University. Active in Grace Brethren Church as a pastors wife in Martinsburg, W. Va., Harrisburg, PA, Berne, IN and Columbus, OH. Enjoyed painting and other art activities. Survived by children, Dorcas (William) Reimer of Vancouver, Brithish Columbia, Canada; sons, Peter Peer of Westerville and Jack Garber of Columbus; grandchildren, Jonathan (Thea) Reimer of Cambridge, England, Andrew Reimer of Vancouver, B.C., Phil Peer of Worthington and Frank (Amanda) Peer of Louisville, KY; several nieces and nephews. Preceded in death by her husband, Rev. Earle E. Peer, son, George Peer and daughter, Mary Ruth Peer. Friends may call at the MORELAND FUNERAL HOME, 55 E. Schrock Road, Westerville, Thursday from 10 a.m.-1:30 p.m. followed by a service at 1:30 p.m.. Interment Blendon Central Cemetery
Condolences
Pastor Daron Butler - Feb 21, 2013
Peter, It is with sadness that I pray for you. God be praised for your enduring care for you mom. I regret that I was unable to attend the services today. May the God of all comforts bring you God's peace as you mourn.
Becky Solomon - Feb 20, 2013
Dear Dorcas, Peter, and Jack,
I will remember Aunt Alice always for her sweet spirit and quiet dignity. Her example of gentleness, caring, and unconditional love is a part of my Peer heritage that I value and treasure so much. May the memories of your dear mother fill you with joy and peace in the days and years ahead.
marion forrest - Feb 20, 2013
Dear Peter & Family, We have been blessed, having the prlvelage of visiting & eating with you. Those were so precious having Alice sing & recite poetry for us. ou have our deepest sympathy at this time. Thank you for your friedship. In Christ,
Freelin and Opal Staley and Bev Clevenger - Feb 19, 2013
Alice was such a good neighbor and friend. She will be missed on Vancouver Drive. We loved talking to her and hearing her stories. Freelin and I have great memories of lunches or tea with she and Mary. She was a wonderful christian lady that we were blessed to know.
-Freelin, Opal Staley and Bev Clevenger
Don and Connie Gregory - Feb 19, 2013
Blessings to you all. We know your mother was a God fearing who loved her Lord and Saviour very much and will be very missed. Our prayers and thoughts are with you. Sincerely, Don, Connie & family.
Dottie Moore - Feb 19, 2013
Many good memories about time with Alice and you, Peter, but this was a shock that Alice had failed so quickly. My prayers with love of Jesus Christ for you.
Mildred Ridgway Bryngelson - Feb 18, 2013
My father married Georgia Garber after my mother died and I grew up neighbors to Alice & Angie & their family.I was at the Brethern church when you and your Mother visited Iowa and and was so happy to see her again. My thoughts and prayers are with you and your family.Love Mildred Bryngelson
Ruth Ann & Sterling Theobald - Feb 18, 2013
Aunt Alice was an extraordinary person. She had a lot of discomfort in her later years, but she always had a smile and something funny to say. We never left her house without saying, "Oh, didn't we have fun! She could live freely because she was always at peace with the Lord and in step with the will of her heavenly Father. She served her Lord, her family, and her church long and well.
Steve and Kay Watkins - Feb 18, 2013
Mrs. Peer was a wonderful Godly woman who loved her Lord and Savior, Jesus Christ with all of her heart and being. She was loved by all who had the privilege of knowing her and she will be greatly missed by her family and friends. We are thankful that she is now rejoicing in Heaven with those that have gone ahead of her.
Jerry and Linda Michael - Feb 18, 2013
You are in our thoughts and prayers.