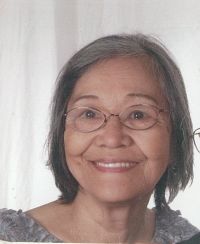 March 8, 1928 - June 6, 2014
Visitation
Tuesday, June 10th from 2-4 and 6-8 p.m.
Service
Tuesday, June 10th 8:00 p.m. Johnson-Melick-Moreland Funeral Home
BUMPUS
Yukiko Tamada Bumpus, age 86, of Centerburg, passed away peacefully at Centerburg Pointe on Friday, June 6, 2014. She was born March 8, 1928 in Sapporo, Japan to the late Yataro and Sen (Tago) Tamada. In 1958 she, her husband and 4 children came to the United States and made Centerburg their home. Yukiko got her citizenship, had 2 more children, got her driver's license in her 40's, got a job and bought herself a car. She retired from Heartland of Centerburg and then worked at Morning View Care Center until the age of 75, and then she was a volunteer at Centerburg Interchurch Social Services for several years. She was a gifted seamstress, enjoyed crocheting and quilting and loved having a dog. She had a great sense of humor and enjoyed being with family and friends. She will be missed. Survived by her loving husband of 62 years, Edward L. Bumpus; daughter, Constance L. (Mark) Winkler of Centerburg; sons, Gary L. (Mickey) Bumpus of Canal Winchester, John R. (Beth) Bumpus of Arlington, TX, Lawrence L. Bumpus of Columbus and Charles L. Bumpus of Centerburg; grandchildren, Christina A. Bumpus, Keith C. Winkler, Ian A. (Josie) Bumpus, Yukiko Allison (Mark) Johnson, Kent Edward (Rachel) Bumpus and Joseph Martin (Meredith) Bumpus; 10 great-granchildren and 1 great-great grandson; numerous cousins, nieces and nephews. In addition to her parents, she was preceded in death by her son, Carl Raymond "Pony" Bumpus, and her brother. Friends may call at the JOHNSON-MELICK-MORELAND FUNERAL HOME, 49 W. Church Street, Centerburg, Tuesday from 2-4 and 6-8 p.m. followed by a service at 8 p.m., Leroy Bumpus, officiating. Memorial contributions may be made to Alzheimer's Association, Northwest Ohio Chapter, 2500 N. Reynolds Road, Toledo, OH 43615 or Hospice of Knox County, 17700 Coschocton Road, Mount Vernon, OH 43050. The family wishes to extend their sincerest appreciation to the staff of Centerburg Pointe for their compassion shown to Yuki during her stay and thanks to hospice for their assistance in her care for her final days. Condolences at www.morelandfuneralhome.com..
Condolences
Judy Mosley - Jun 10, 2014
I am truly sorry to hear of your loss Chuck. My prayers are with you and your family.
Tim Evans - Jun 10, 2014
Our sincere condolences Chuck from your friends and co-workers at Pro Sign and Graphics. Prayers and well wishes as you all go through this tough time.
Laura Zolman - Jun 9, 2014
Hello, I am deeply sorry Edward you have loss the love of your life…I met you at Centerburg Pointe when visiting a friend…we got to visiting and you shared the interesting story of how you met Yukiko..such a wonderful love story you have enjoyed..and I thank you for sharing it with me and I have shared it with others too..also.. Edward for your service time…even tho I know it was long ago…I say THANK YOU..
Don and Joyce Smith - Jun 9, 2014
Dear Ed,Connie,Gary,John,Larry,Chuckie and your family, We are keeping you all in our thoughts and prayers during this difficult time. We know you will miss Yuki as will many others, she always had the sweetest smile. We are sorry we can't be at her services to give you a hug and support, but we are out of town this week. So, once again, please know that you will be in our thoughts and prayers. Grace and peace to you, Don and Joyce