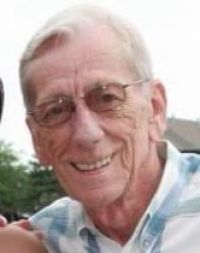 June 25, 1936 - November 18, 2013
Visitation
2-6:30 p.m. Friday November 22, 2013
Service
6:30 p.m. Friday November 22, 2013
MUNZER
William L. "Bill" Munzer, 77, of Coumbus passed away Monday November 18, 2013 at Riverside Hospital. Owner of Bill Munzer Heating & Cooling, Inc. for 50 years. Preceded in death by father, Arthur Munzer; mother and step-father, Erma & Delbert Darkes. Survived by loving wife of 59 years Peggy (Armburst) Munzer. Children;
Pamela Doty of Dublin, Kimberly (Skippy) Marcum of Columbus and William (Todd) Munzer of Columbus. Grandchildren; Jason (Danielle), Christopher (Kim), Katie (Adam) and Kyle. Great grandchildren; Kayla, Jayson, Emma, Isaac, Autumn, Aubrey, Tammy and Kelly. brother, Donald Munzer of Wilmington, OH and sister Grace Everett of Saginaw, MI. Several nieces and nephews. Faithful companion Chelsea. Bill was an avid car collector and enthusiast his whole life. He had owned many corvettes, street machines and street rods over the years. He was a co-owner of Corvette Corner. He was a member of the former Pipers Car Club and had raced at the Old Northway Airport Dragstrip. Bill was a member of the Goodguys Road & Custom Assn, the National Street Rod Assn. and the MOB (Mid Ohio Bunch Car Club). Friends may call at the MORELAND FUNERAL HOME 55 East Schrock Road Westerville, 2-6:30 p.m. Friday November 22, 2013, where a Celebration of Life service will be held at 6:30 p.m. Private interment.
Friends, if they wish, may contribute to the American Cancer Society or Capitol Area Humane Society.
Condolences
The Eubanks Family - Nov 22, 2013
Peg,
We are so saddened by your great loss. I take some comfort in knowing that he and Dad are up in heaven together laughing and cutting up. We are here for you if you need us.
Lisa and the Eubanks Family
Candace Means - Nov 21, 2013
Dear Peg,
We are so sorry to learn of Bill's passing. No words can ease your pain at this moment – please know we are holding you in our prayers.
Love,
Candace and Ed
Ron and Barb Scherer - Nov 21, 2013
Dear Peg, we were so sad to hear of Bill's passing. We believe you could not find a better person. One of the greatest gifts God gave us was the ability to remember. We hope your memories of Bill will help sustain you. God Bless you and the family in your time of sorrow.
Nodine Miller - Nov 21, 2013
For many years Bill serviced my furnace and air conditioner. In addition to doing a great job, he was a great guy to chat with….especially about our mutual love for dogs. I can still hear his deep voice talking about his love for Zeus. What a very very nice man. I'll miss talking with him spring and fall.
Jimmy Stewart - Nov 20, 2013
I was so sorry to hear of this. I truly feel honored to have had Bill as a friend for all these years. He was a good,honest, and generous man, who always greeted me with a smile and a handshake. I'll never forget his voice and his laugh.
RICHARD HITCHCOCK - Nov 20, 2013
Skippy, CONNIE AND I ARE SO SOORY TO HEAR ABOUT YOUR LOSS AND HAVE YOU IN OUR PRAYERS.
WE ARE OUT OF TOWN THIS WEEK, HOPE TO SEE YOU SOMETIME SOON FOE LUNCH
OUR BEST TO YOU AND THE FAMILY
Jennifer (Spiert)Vogler - Nov 19, 2013
Peggy,
I will forever miss my "uncle Bill"! His laughter will always be heard in my mind and felt in my heart. His graciousness, kindness, and love will never be forgotten. May God's grace be with you during this time.
Love, Jennifer (Spiert)
Becky (Church) Adkison - Nov 19, 2013
Peggy, Pam, Kim and Todd, My heart aches for you all. Bill was a great man, friend and mentor to me. I will forever hear that wonderful deep voice in my head, as I have for years, when I'm trying to make a decision….His, and your friendship has helped shape my life. He will be sorely missed by many.
Daniel "Jake" Perry - Nov 19, 2013
Peggy and Kids,
My heart is broken for you. The world has lost one of the truly GOODGUYS. Words can not express the the feeling I had for Bill and all of you. Your in my prayers and in my heart.
Love you all Jake or as Billy would say "Jake the Snake"