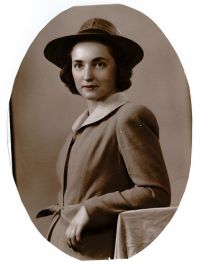 April 8, 2010
Visitation
Sunday, April 11, 2010, 2-5 p.m.
Service
Monday, April 12, 2010 at 10:30 a.m.
WEASTON
Virginia Hetzler Weaston, born September 3, 1910 to Edwin and Pearl Hetzler in Germantown, Ohio and died at the age of 99 on April 8, 2010. Virginia was a resident of Westerville for over 50 years. She graduated from Otterbein College in 1937 and served for several years as Director of Admissions. At the age of 50, she began her career in teaching with Westerville City Schools and received her M.A. from The Ohio State University's College of Education. She was proud to be an educator and was proud of her children's and grandchildren's educational accomplishments. She was an avid reader and shared her love of reading with her family and her students. A member of the Otterbein Women's Club and enjoyed working at the Otterbein Thrift Shop, also a member of the New Century Club, International Relations Club, and was a 50-year member of the Church of the Master. Her love of traveling led her to visit more than 20 countries, including Ireland, Russia, Greece, Japan, Korea and India where she met Mother Theresa. Preceded in death by her parents, her brother David Hetzler and former husband Harry Weaston. Survived by her daughters, Diane Weaston Birckbichler and Dee (Bill) Weaston Standish, son Daniel (Linda) Weaston; grandchildren David and Scott (Darla) Weaston, James (Sacha) Standish, Kathryn Koch, Julie (Joe) Standish-Moran, Jennie Standish, and Ashley, Joseph and Allison Twinem and great grandchildren Nicholas, Christian, and Aidan Weaston and Isabella Standish; sisters, Lenore Evans Blue, Mary Michael Arnold, and Joanna Hughes and numerous nieces and nephews. A role model at every stage of her life, she will be sorely missed by her family. Friends may call at the MORELAND FUNERAL HOME, 55 E. Schrock Road, Westerville, Sunday 2-5 p.m. where service will be held Monday at 10:30 a.m., Rev. Joel Baer, officiating. Interment Otterbein Cemetery. The family wishes to thank the caring staffs at Wesley Glen and Home Reach Hospice. In lieu of flowers, gifts can be made to Wesley Glen's Charitable Care Fund, 5515 North High Street, Columbus, 43214 or to Home Reach Hospice, 3595 Olentangy River Road, Columbus, 43214.