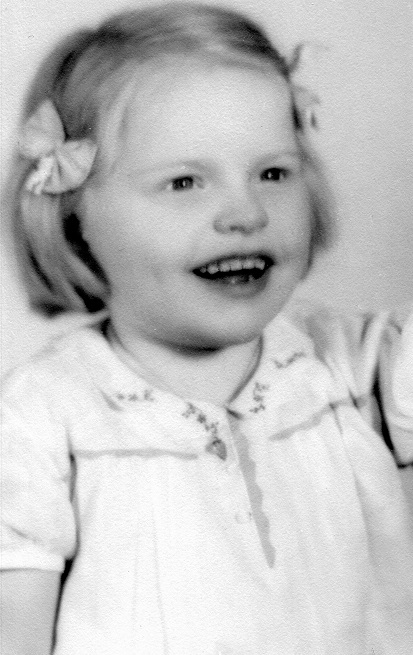 May 2, 1936 - January 15, 2018
Visitation
Friday, January 19th from 1-3 and 5-7 p.m. at Moreland Funeral Home
Service
Saturday, January 20th at 10:00 a.m. at Moreland Funeral Home
Burial
Fancher Cemetery
Virginia Lee Hanawalt, age 81. On a snowy January day, the first-born child of Mary M. and Arthur J. Hanawalt quietly slipped away surrounded by her little sisters Leslie Carol, Janet Mae, and Mary Ellen, who will miss her dearly.Virginia was innately curious about everything around her and especially enjoyed the outdoors, long drives in the country, babies, and all animals, especially kittens. A trip to the zoo always thrilled her. A kind and generous soul, she had an impish sense of humor and a flawless memory. Although a childhood disease led her down a path different from her sisters, the bond between them never wavered, and she bore life's hardships without complaint. She will be forever remembered and missed by her three sisters, especially for her sparkling blue eyes and infectious laughter.
Good night, sweet lady,
May flights of angels sing thee to thy rest.
Virginia's family is grateful to the many caregivers at the Association for the Developmentally Disabled who provided for her comfort and health during the last 30 years. Friends may call at the MORELAND FUNERAL HOME, 55 E. Schrock Road, Westerville, Friday 1-3 and 5-7 p.m. where service will be held Saturday at 10 a.m.. Internment Fancher Cemetery. In lieu of flowers, please donate to the following which provided care for Virginia with incredible compassion and tenderness: Ohio Health Hospice and/or Kobacker House, 800 McConnell Drive,
Columbus 43214.
Condolences
GARY NEBINGER - Jan 18, 2018
VERY SORRY TO HEAR OF VIRGINIA PASSING…MY CONDOLENCES TO CAROL…JANET…AND MARY ELLEN