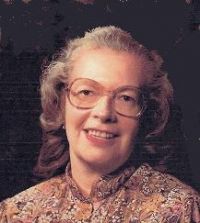 November 23, 2009
Visitation
Sunday November 29, 2009 5-8 p.m.
Service
Moreland Funeral Home Monday 10 a.m.
BRIGHT
Virginia Messer Bright, age 81, formerly of Bedford, OH died November 23, 2009 in Johnstown, OH. She had been ill for some time. She received her Bachelor of Music Education degree from Western College for Women, now part of Miami University in Oxford, OH. She was married to Charles Bright, former elementary teacher and principal for 27 years in the Bedford School System.
Virginia was a part-time teacher at Central Elementary School but was best known for her many years of teaching piano and voice to scores of students at her home. A number of her students went on to have professional careers in music. She contributed many hours of her talents as a singer and piano player to multiple groups and organizations through the years. She was a member of the Bedford Music Club, Leota Book Club and numerous school organizations. She was a former member of both United Methodist Church and the Church of the Nazarene in Bedford. Virginia was a member of the Bedford Board of Education from 1982-1990 and a past president. Mrs. Bright moved to Westerville, OH in 1991 to be near her children and grandchildren and continued teaching for several years. Survived by sons, Frank (Linda) of Columbus, Chris (Leslie) of Sunbury
and Tim (Marianne) of Galena; grandchildren, Emily (Josh), Kelly, Sarah and Laura, all of the Columbus area; brother, Frank W. (Jane) Messer, Jr. of Indiana;
and several cousins. Preceded in death by her husband, parents, Dr. and Mrs. Frank W. (Opal) Messer of Kendallville, IN and an aunt, Marian Moore of Washington Court House, OH. Friends may call at the MORELAND FUNERAL HOME, 55 E. Schrock Road, Westerville, OH Sunday 5-8 p.m. where service will be held Monday at 10 a.m., Rev. Bud Leskovac, officiating. Graveside service and interment at Bedford Cemetery Monday at 2 p.m.. The family asks that in lieu of flowers, any cash or gift be sent to the Charles Bright Scholarship Fund, Bedford
City Schools, 475 Northfield Road, Bedford, OH 44146.