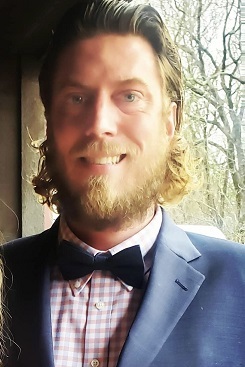 November 24, 1985 - September 16, 2022
Trenton Paul Ousley, 36, of Powell Ohio passed away Friday, September 16, 2022 unexpectedly. He was born November 24, 1985 in Mansfield Ohio, the son of Lynn and the late Russ Ousley. Trent was a dedicated and hard-working mail carrier for USPS for over 16 years. He lived for adventure, loved his family beyond all measure, and was unafraid to show affection to those around him. He is preceded in death by his father Russ and leaves behind his loving wife Alicia, daughters Carly and Riley, his mother Lynn and brothers Tyler and Travis. He will be sorely missed by his pups Otis & Reggie. A celebration of life will be held in his honor on Sunday from 5 to 9 in Westerville for close friends and family. In lieu of flowers, the family is asking for donations to an educational fund for Carly and Riley.

https://www.gofundme.com/f/trent-ousley?utm_source=customer&utm_medium=copy_link&utm_campaign=p_cp_guide_do&member=22156719
Condolences
Kevin Mitchell - Sep 27, 2022
Lynn, I was shocked and saddened to hear of Trent's passing. My heart goes out to his entire family, but especially to you. No parent should ever have to bury their child. You are, and will remain in my thoughts.
Shelley Heilshorn - Sep 24, 2022
I am so sorry for your loss. Trent delivered and picked up the mail everyday at the school where I work and was always so kind. We enjoyed getting to know him. He loved letting us know how his daughters were doing and was so very proud of them. He will be missed.
Connie Porter - Sep 22, 2022
So very sorry for your loss Alisha, my thoughts and prayers are with your family. Love you
Cheryl Meister - Sep 22, 2022
Lynn I really have no words. I just want you to know that over the years I think of you and Russ with great love. This is not supposed to be part of your story. You have been so strong as long as I can remember. I'm praying for your strength to rise even higher. Comfort for you all. Know that you are loved by many. The Lord above has you in his arms.
Kip Landenberger - Sep 21, 2022
I'm going to miss Trent a lot. I'm sure my knowledge of him barely scratches the surface. But I know he had a good heart. Always could see the best in people no matter what. A truly free and independent thinker, I will miss our conversations at work, he knew a lot of interesting stuff. Always a good time when Trent was around, he knew how to live life to the fullest, even at work the few hours he was there in beast mode. I'll never be that fast! Trent, I am blessed to have known you, brother. Gone, but never forgotten!