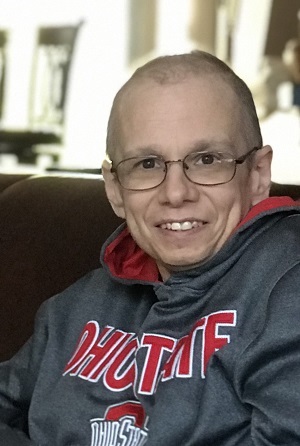 September 19, 1974 - November 16, 2022
Service
Monday, Novembe 21, 2022
It is with deep love and sadness that the family of Thomas Nabeh Rouhana announce his passing on Wednesday, November 16, 2022 at the age of 48. Tommy was born September 19, 1974 in Youngstown, Ohio to Jeri and the late Joe Rouhana.

Tommy, life was never fair or easy for you, and for that, were so sorry. At every turn, there was another obstacle. When we were hitting milestones in our lives, you were there cheering us on you were our biggest cheerleader and boy did we want for you to have all of the things too.

You didnt complain. You were so strong, and you just kept going. You were the living example of making lemonade from the lemons you were given. It just doesnt seem real that you are gone.

You loved traveling, shopping, eating, and going to the movies. You were a kid at heart especially around the holidays where the family would get together. The way that you loved those who were close to you is to be admired and cherished. You were always excited and happy to see your family and friends regardless of what was going on in your world. You had a gift of making everyone feel like the most important person when they walked into a room.

Above everything, your love for our mother was your guiding light. The bond that you shared with her was unbreakable. It gave you the security and confidence to live your best life. There are so many lessons that you taught us through the years. And for all your love, we are forever grateful.

Tommy will be lovingly remembered by his immediate family, mother, Jeri Rouhana; brother, JJ (Suzanne) Rouhana and sisters, Maria (Ernest) Stromer and Nicole (Bryan Maher) Rouhana; nieces, Madeline and Lila Rouhana, Brooklyn and Emma Maher, and nephews, Joey Rouhana, Aaden Stromer, and Jackson Maher and his second family Melody, Connor, Misty, Charlie, and Colin Gall and Joanne Wylie.

A private family ceremony will be held on November 21, 2022 at Moreland Funeral Home with Deacon Carl Calcara as officiant. Tommy will be laid to rest next to his father Joe in Pioneer Cemetery, Westerville.
In lieu of flowers, donations in Tommys memory can be made to Franklin County Special Olympics, 2879 Johnstown Rd, Columbus, OH 43219.
Condolences
Janice Carpenter - Nov 20, 2022
Jeri, Paul and I are so sorry for your loss. You and all of your family are in our thoughts and prayers.
Suzy Pelok - Nov 20, 2022
Geri- I am so sorry for your loss. Tommy was such a wonderful person. He cracked me up and I loved my time with him. I'll never forget all the fun trips we went on together, especially camping. Lots of love and healing your way.
Claudia Stafford - Nov 19, 2022
Geri, I am so sorry. My heart breaks for you and your family. Sending hugs and prayers.