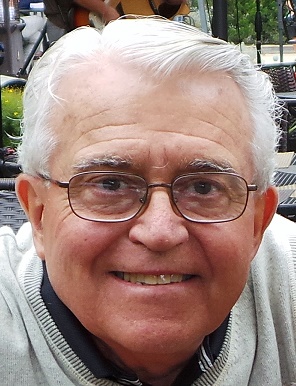 October 5, 1944 - December 5, 2015
Visitation
Visitation Thursday, December 10, 2015 from 4:30 -7:30 p.m., Moreland Funeral Home
Service
Friday, December 11, 2015 12:00 noon, Moreland Funeral Home
DAVIS
Thomas R. Davis, age 71, of Westerville, OH passed away after a short, hard fought battle with cancer on December 5, 2015 at Kobacker House. Tom was born on October 5, 1944 to the late Tom and Lillian Davis in Columbus, OH. He grew up in the Linden area and graduated in 1962 from Linden-McKinley H.S. and attended The Ohio State University where he played on the golf team. On January 7th, 1967, Tom married the love of his life, Carolyn (Keeling) Davis. Left to cherish his memory, his wife, Carolyn and their daughter, Loraine (Lorie) and son-in-law, Brian Swank; his adored grandchildren, Danielle Merola and Aric Merola, and step-granddaughters, Morgan and Alexa Swank; brother-in-laws, Rick Keeling and John (Karen) Keeling; and nephews, Jason Keeling and Jared Keeling. His beloved dog, Magee, will wait for him at the front door until she joins him in Heaven. Tom was truly a genuine presence with a big personality who never knew a stranger. He was blessed with many wonderful friends; his most treasured friendship was that of his wife. Tom enjoyed his career as an independent insurance salesman and believed in doing the right thing for the best interest of his customers; many who became personal friends. He was part owner of an agency that was recently acquired by the Stolly Insurance Group. Tom loved his new co-workers and continued to work with the Stolly family in Westerville until the time of his death. Tom attended Central College Presbyterian Church and was a Masonic member of the Capital City Lodge No. 656. In addition to his love of family and friends, Tommy was an avid golfer. He was a member of York Golf Club and enjoyed playing with his grandson, Aric, and many treasured friends. He greatly enjoyed organizing the golf games and trips. Tom was inducted into the Hall of Fame for his contribution to competitive golf as president of the Columbus Golfers Association for many years. He was also a member of the Columbus District Golfers Association. The family would like to thank all of his friends and co-workers for their support of Tom during his fight; it meant so much to him. The family will receive friends at MORELAND FUNERAL HOME, 55 E. Shrock Road, Westerville, 43081 on Thursday, December 10th from 4:30-7:30 p.m. where a celebration of his life will be held on Friday, December 11th at 12 noon, Pastor John Atkinson, officiating, with family receiving friends 1 hour before the service.
Condolences
Jim and Linda Groezinger - Dec 12, 2015
We appreciated his friendship and insurance guidance for all the years at Minerva Lake and Arrowhead Lakes Golf courses. Jim enjoyed playing golf with Tom. Our thoughts and prayers are with his family.
Carol Nation - Dec 10, 2015
Carolyn, so sorry to hear of Tommy's passing
you and your family will be in my thoughts and
prayers in this time of sorrow.
Carol Nation
PETER F BEAGLE - Dec 10, 2015
God loves us all
Eric Hoy - Dec 9, 2015
My condolences to Carolyn & yur family. I know Tommy will be missed by many. He & I played lotsa golf & poker together…I cud beat him sumtimes at poker but never at golf..I was just a 'hack', but still was great times !
United Window Inc. Holly Richert and Herb Jones II - Dec 8, 2015
We are greatly saddened by the passing of Tom. He was a great businessman friend and person. We enjoyed him both in a business setting and as a friend. We loved hearing about his golf trips and family stories. Our prayers are with his family
United Window Inc.
Holly, Herb, Brent and Carmella
Beverly Rhyan - Dec 8, 2015
I send my condolence to Carolin and family.Bev Rhyan
Jeffrey Ferezan - Dec 8, 2015
To Carolyn and family,
My friend Tommy Davis will be missed by all who knew him. He would like to be remembered as a friend to those he met, but he was much more than that – he was also a friend to those he had not met and they missed out on a very dear person!
My condolences.
Sincerely,
Jeffrey M. Ferezan
John Banner - Dec 8, 2015
You all have my deepest sympathy.
Marsha Voress - Dec 8, 2015
Carolyn & Family-My prayers are with you and may God give you strength through this hard time. I was truly blessed to get to know and work with Tom at the agency. I loved his personality and will miss him a lot. If you need anything, please give us a call at the agency.
-Marsha Voress
Darlene Rayburn - Dec 7, 2015
I am truly at a loss to tell you how much I enjoyed my relationship over the years with Tom. He was so proud of his family and loved them all, Maggie included. As his former Underwriter, his friend and his client I will miss his enthusiasm, his kindness, his honesty and most of all him. May God take him into his care, we'll meet again on the other side my friend. My condolences to the family.
Darlene & Bob Rayburn of Westerville.