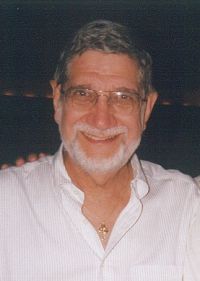 April 8, 1932 - September 21, 2012
Visitation
Friday, September 28th from 6-9 p.m.
Service
Saturday, September 29th at 11 a.m. St. Paul Catholic Church
HERWIG
Today we say good-bye to our doctor, friend, husband, dad, step-dad, teacher, philosopher, sailor and sharp shooter. Theodor Fredrick Herwig, MD (Dr. Ted), 80, of Westerville, Ohio passed away September 21, 2012 at New Albany Gardens & Care Center. Fondly known as: Teddy – Doc – Oomp – Gramps – Papa. Born April 8, 1932 in Akron, Ohio to Theodor Christian Gustav Herwig, MD and Frances Victoria Kupperman, MD. A distinguished alumni of Western Reserve Academy (Hudson, Ohio '49), OberlinCollege (Oberlin, Ohio '54) and The Ohio State University College of Medicine (Columbus, Ohio '58). United State Air Force (1959-1961). Dr. Ted was living life to the fullest with a passion for his life's work in family practice for 53 years, a preceptor at the College of Medicine and a multitude of other accomplishments and honors. Volunteering was also a huge part of his life beginning with Dublin High School Football, Japanese Community in Marysville, Lutheran Social Services, SERTOMA, St. Vincent DePaul Society, Warm Ministry, Cursillo, Kairos Prison Program and Westerville Rotary to name a few. Survived by loving wife Vinny Cipriani Holdren Herwig; childern, Theodor Thomas (Cheryl) Herwig, Christian, Andrew, Karli of Cape Cod. MA, Nathaniel Christopher (Darla) Herwig, Alicia of Lawrenceville, GA, David Edward (Chimmi) Herwig, Trinity, Chloe of Phoenix, AZ, Bret Alan (Chrissy) Holdren, Jacob, Zach, Luke of Elizabeth PA, Jennifer Marie Holdren (Stan) Fuller, Laena of Hilliard, OH; family, Larry & Tahna Pasqua of Westerville, Bill & Peggy Munzer of Columbus, Linda Strawser of Columbus, Rusty & Nancy Slack & families of Columbus; Herwig Cousins of Germany/USA; friends, Deacon Bob and Grace Neely, Dr. Ron and Betty Litvak, Chuck and Lisa Grady – Eric, Kirsten, Mark, John and Barb Liedtke, Carl and Carol Boehm, Frank and Roseanne Barone. Friends may call at the MORELAND FUNERAL HOME 55 East Schrock Road Westerville, 6-9 p.m. Friday September 28, 2012. Memorial Mass will be held at St. Paul Catholic Church, 313 North State Street Westerville, 11:00 a.m. Saturday September 29, 2012, Fr. Charles Klinger, celebrant with Deacon Bob Neely. In lieu flowers the family would like donations in memory of Dr. Theodor Herwig to The Ohio State University, College of Medicine White Coat Scholarship, 1480 West Lane Ave., Columbus, Ohio 43221 or http://giveto.osu.edu/whitecoat/ or Western Reserve Academy, 115 College St., Huron, Ohio 44236 c/o Jack McKee. Thank you to the entire staff at The New Albany Gardens & Care Center, St. Paul Catholic Church, Dr. Paul Dusseau, Dr. Duncan Grant and Dr. Bob Toscano.
Always, loving, kind, with impeccable integrity, faithful, generous, tender and giving. May you be at peace in the next life watching over all that you love and who love you.
Prayer service Friday at 8:45 p.m., Father Michael Hinterschied presiding.
Condolences
LAURA CARTER - Sep 28, 2012
Vinny & Family, I was saddened to hear of Dr. Herwigs passing, he was a great doctor, boss and friend. I will always remember working those years for Dr. Herwig and Bridger, he was always so kind and compassionate towards his patients and workers, he would always take time to listen to everyone and care what was going on in their lives. He always had great stories about his family and life also. They were the best doctors I have worked for and miss them greatly. Rest in peace Dr. Ted, Your family is in my prayers during this time
Bob Crew - Sep 25, 2012
Vinny: I am so sorry to here about your husband passing. I know its a tough time for you. Stay strong, I will keep you in my prayers.
Louis J. Asmo - Sep 24, 2012
My Dear Vincenza, today I offer you 2 rosaries, our favorite prayers, for your loss but also wish to comfort you in the thought that our God is a loving God who will take great care of your dear husband.
Accept my sympathies for your loss and any comfort I can give to you but I prefer telling you I love you and care about you very, very much.
E-mail me anytime to talk about anything.
Or, better yet, come out to Las Vegas and let me treat you to dinner and some great conversation about our great times back at St. Augustine's during the amazing 50's.
The best to my 4th grade heartthrob,
Vincenza Cipriani-Herwig
Louis J. Asmo
Susan Garrity Wyder - Sep 24, 2012
Love and prayers at this difficult time! I often think of you and the good times we had in grade school!
Susan
margie amorose - Sep 24, 2012
I am so sorry – I just got the email from Mike to let me know. We were out of town over the weekend so I missed the paper. You are in my prayers. Margie
Rita Ficheria - Sep 24, 2012
I am so sorry for your loss. I'll keep you and your family in my prayers.