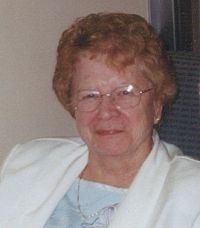 December 31, 2010
Visitation
Saturday, January 8th from 11 to 12:30 p.m. Sunbury United Methodist Church
Service
Saturday, January 8th at 1:00 p.m. Sunbury United Methodist Church
SAYLOR
Thelma Louise (Richardson) Coffindaffer-Saylor, age 85 of Galena, ascended Friday December 31, 2010 at St. Ann's Hospital surrounded by her loving family.
Retired secretary from Westerville City Schools and also worked with the Department of Natural Resources, Division of Wildlife and with Ohio Wesleyan University. Preceded in death by parents Kenneth & Opal Richardson, husbands, Dane Coffindaffer and Rev. Dann Saylor, son John Coffindaffer, grandson Chad Burkett and siblings Lois Winkle and Bud Richardson. Survived by daughter, Pastors Dr. Sandy (Greg) Burkett of Galena. grandson Dane (Jamie) Hudson of Westerville. granddaughter-in-law, Danielle (Burkett) and Jeff Murphy. 5 great grandchildren, nieces, nephews and many special friends. Visitation will be held 11 to 12:30 p.m. Saturday January 8, 2011 at Sunbury United Methodist Church at the corner of Rt.3 and Rt. 37 in Sunbury with a Celebration of Life service at 1:00 p.m. Pastor Brian Smith officiating. Private interment. Arrangements by the MORELAND FUNERAL HOME, Westerville, Ohio.
In lieu of flowers, those who wish may contribute to Sunbury United Methodist Church or Breakthrough Reconciliation Ministries, PO Box 2067, Westerville, Ohio 43086; daughter and Son-in-law's Ministry.
Condolences
kinupcrj - Jan 21, 2011
AiqCxB fxfxzcqiudut, [url=http://logubdxjvefo.com/]logubdxjvefo[/url], [link=http://elvstdovgrrh.com/]elvstdovgrrh[/link], http://qpljytkqrnts.com/
Mrs. Gene (Lois) Mikesell - Jan 10, 2011
Dear Sandy, Dane & Family,
Even though you would not recognize the name, I cherished my friendship with Thelma
and my children did as well. She and Dann
came into the Successful Living Book business
with us many, many years ago. My husband, Mike,
and Dann met at MCI and became fast friends. We
had some good times and then to see Dann go into the ministry was very special. After that
Dann was the pastor of my husband's aunt and
uncle, Charles & Mabel Mikesell, in Columbus.
We were also very thankful for that since we
knew Dann & Thelma made a wonderful pair and
really cared deeply for all the folks there.
I wanted to express my condolence to you and
yet share in the praise to the Lord for the special lady Thelma was (is, since we know she is enjoying all the glories of being in the
Lord's presence). I know you will miss her
terribly but just know that there are many others who will and who will pray for you at
this time.
Lovingly in Christ,
Lois Mikesell
Janet and Don Thallman - Jan 5, 2011
We remember your mother and grandmother was a lot of fun. Our sympaties to your family. She and Dan were at Bascom U. Methodist about 1997. Our daughter always sang solos and Thelma would send her a little thank you note to her college dorm room to let her know how much she loved to hear her sing and to say hi.
Shortly after they came to Bascom, we were cleaning church one night when they came in very quietly as they could not imagine who was at the church so late in the evening. They scared us to death and we did that to them also. We always had a great laugh about it.
We certainly enjoyed all the things she did at our church. She loved everyone…
We pray you all have many wonderful memories and know that she will be missed..God Bless, Janet and Don Thallman