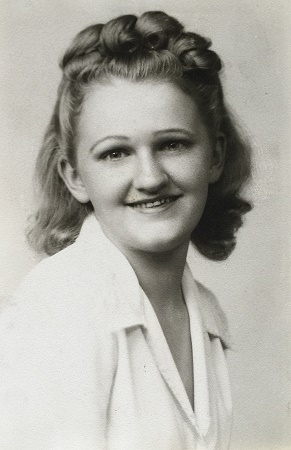 October 12, 1924 - December 27, 2015
POWERS
Thelma Sprenger Powers, long-time resident of Amherst, Ohio, transitioned from this world on December 27, 2015. She died peacefully at Minerva Park Healthcare and Rehabilitation Center in Columbus. Born in Amherst on October 12, 1924, Thelma was a loving and resilient woman who was known for her straightforward Midwestern common sense and her sharp wit. Valedictorian of her class at Amherst High School in 1942, Thelma was a founding member of the Amherst Women's League and served in the WAVES during World War II. On September 10, 1949 she married James L. Powers of Oberlin. A working woman, Thelma held many administrative jobs during her career-including time at the Lorain Journal and the American Lung Association. In 1986, she retired from the Human Resources Department of Nordson Corp. Jim and Thelma are survived by their children Pamela Powers (James) Hannley of Tucson, Ariz. and James L. (Mary L. Hawkins) Powers Jr. of Columbus; their grandchildren Alexandra K. Queen and Edward A. Queen of Tucson and Grant T. Powers of Hershey, Penn.; and great grandchildren William E. Calamia and Isabella R. Queen of Tucson and Amelia R. Powers of Hershey. Thelma was preceded in death by her husband and her parents William and Emma Sprenger of Amherst; sister Esther Sprenger Walker Fassinger of Elyria; brothers Raymond Sprenger of Brownhelm, Elmer Mathes of New York City, and Donald Mathes of Kenosha, Wis. Thelma was a life-long member of St. Peter's United Church of Christ in Amherst. In lieu of flowers, donations can be made to St. Peter's in her memory. The cremains will be interred at Crown Hill Cemetery in Amherst.
Condolences
Marjorie Fehlner - Dec 30, 2015
Aunt Thelma was a special lady and will be missed by her family and many friends. Always had a smile for everyone.
raynelle and jerry bozicevich - Dec 30, 2015
our thoughts and prayers are with your family during this time of sorrow.
neighbors on sipple ave