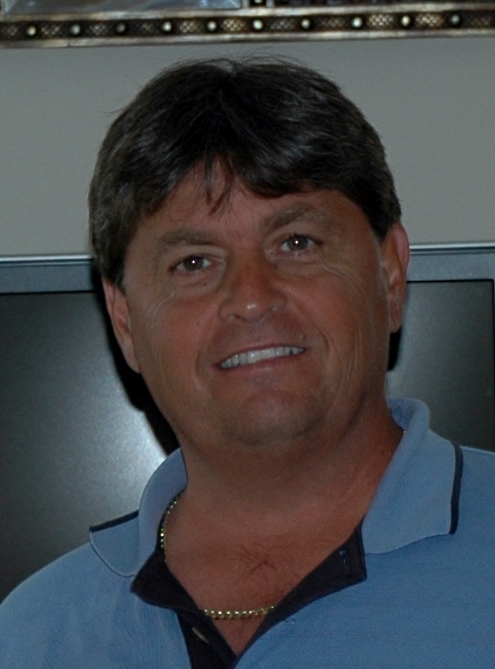 August 2, 1957 - May 15, 2015
Visition
Tuesday, May 19, 2015 from 6-8 p.m., Moreland Funeral Home
Service
Wednesday, May 20, 2015 10:30 a.m., St. Paul the Apostle Catholic Church
SALERNO, SR.
Steven Salerno, Sr., passed away suddenly May 15, 2015 at the age of 57. He will always be remembered as a Great Dad, Fantastic Papa to his 4 grandchildren and a Loving husband (yes, he had a soft side) to his high school sweetheart Debbie. Sports fanatic for all of his Chicago teams, Cubs/Bulls/Blackhawks/and Da Bears.Steve and his twin brother were born in Chicago, IL. Steven was the "surprise" baby. He grew up in Chicago and met Debbie in Streamwood, IL. They later moved to Westerville, OH in 1990 where he was employed by Geotex Construction for over 15 years and spent the last 4 years at Savko Construction. Debbie recently retired from Chase Bank after 35 years. Steven is survived by his loving wife of 36 years, Debbie; his sons, Steven (Jennifer) Salerno, Jr. and Joseph (Charissa) Salerno; four grandchildren, Brayden, Noah, Jordan and Steven; brothers, David (Pam) of AZ, twin brother Michael, Tony (Lorraine) and Ken (Cherie), all of IL, Frank (Brenda) of SC; sister, Nancy of IL; many great friends and co-workers. Preceded in death by his parents, Frank and Marie, and brothers, John and Chuck. Friends may call at the MORELAND FUNERAL HOME, 55 E. Schrock Road, Westerville, Tuesday 6-8 p.m., Mass of Christian Burial will be held at St. Paul the Apostle Catholic Church, 313 N. State Street, Westerville, Wednesday at 10:30 a.m., Rev. Fr. David E. Gwinner, celebrant. Please bring a note for the family with your memories of Steven. In lieu of flowers, donations may be made to the family or charity of your choice in Steven's name. "I love you more than there are sands on the beach and stars in the sky".
Condolences
Danny salerno - Apr 2, 2018
I'm very sorry to here about Uncle Steven,
This is Danny Chuck Salerno's son to all of you guys
me my brother Chuck Jr. And our sister Carla our heart goes out
to you all Debbie ,Steven jr,and Joseph ..
I had just found out literally today April 1 2018 .
We were never contacted but we are here for you guys
If you ever we mean ever need us no matter what we our family
Please contact us at the email so we can catch up and let you guys
Know what's going on and just to be ther for yo
God bless you all .
Love Chuck's kids
Danny ,ChuckJr,and Carla
Marty Hoster - May 27, 2015
Debbie, sorry to hear of Steven's passing. You and your family our in our prayers.
ED CRABTREE JR. - May 21, 2015
Dear cousin, so sorry for you loss. I have never meet Steven but I've heard so much from Cousin Beverly for being a great family man that always loving his family.
Love you,
Cousins Ed & Ms. Beck
David osborne - May 19, 2015
So sorry to hear about Steve long time since the Streamwood days every time I heard Columbus Ohio come up i thought about the Salerno family.
Paul Walker - May 19, 2015
I knew Steve as a wonderfully devoted husband and father, steadfast and lovingly supportive of his family. And, brilliant with construction work and equipment too, always knowing the very best ways to get a job right. My prayers go for Debbie and family for comfort, peace, and unending fond and treasured memories of their lives together.
Todd and Lisa Cook - May 19, 2015
We are so sorry for your loss Debbie. Thinking and praying for you and your family during this difficult time.
Jesse &Jeanette Vargas - May 19, 2015
You are all in our thoughts and prayers. He will be missed so very much. He was such a great guy. Just know he will watch over all of you from Heaven. He will always be with all of you to. We love all of you very much. If we can help in any way let us know. Love to all, Jesse & Jeanette
Michelle Vargas - May 18, 2015
I am truly speechless to hear of Steven's passing. I heart goes out to you and the family Debbie. I'm so sorry for the enormous loss your family is feeling. He was such a wonderful man, kindhearted and always had a smile! He will be truly missed.
Michael Browning - May 18, 2015
Debbie, it was sad to hear of the passing of your husband. I feel awful for your loss and wish you well.
Susan,twin to Robin - May 18, 2015
I did not know Mr. Steven Salerno, but ny identical twin sister recently died. If Mr. Michael Salerno needs, there is a support group at www.twinlesstwins.org.
The lone twins really "get it" about losing a twin.
My condolences.
I will sign off as we TwinlessTwins do, to honor our twin.
Susan,twin to Robin
Tara Bird - May 17, 2015
Debbie,
So very sorry to hear about your loss. May God keep you and your family during this difficult time.
De Baumgardner & family - May 17, 2015
Please accept our condolences. I remember how open and warm you both were while we were at a car show with Dave and Pam. You are lucky to have had a great life with your soul mate. Always know he will be with you no matter where you go or what you do, he is only a heartbeat away, watching and guiding with the help of The Father. My faith carried me through at the time I needed it as well. Be well, don't get lost in expectations, and take care of yourself with quiet little thoughts. Angels do exist, and you now have your own.
Sincerely, De in Arizona
Elizabeth Slape - May 17, 2015
Debbie,I was so shocked to hear the news of Stevens passing. Many tears shall fall.He was a great man.He is now in God's kingdom.
Elizabeth Slape - May 17, 2015
Debbie,I was so shocked to hear the news of Stevens passing. Many tears shall fall.He was a great man.He is now in God's kingdom.
Elizabeth Slape - May 17, 2015
Steven always was so loving,happy to see you with a big smile,and hug. He would always make all of use laugh by his great sense of humor. He will be greatly missed.An awesome nephew inlaw.Had great times when We got to go visit.And when Debbie and Steve came to visit. I remember the time we went sledding in a park and almost landed in a creek. There where so many fun times. will be greatly missed.
Chuck and Angela Abbott - May 17, 2015
Debbie, I don't know what to say. I was shocked when I read this. Please know that we are praying for you and your family. He was such a nice guy. We remember him often and you too. May God welcome him into his kingdom.