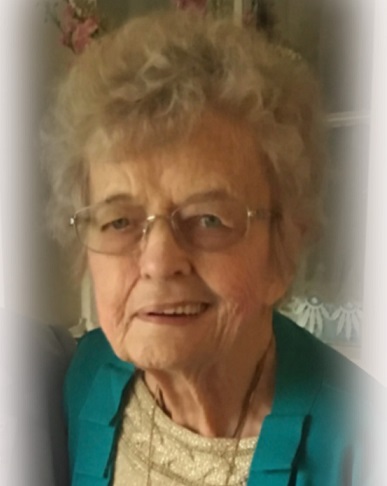 May 26, 1932 - January 31, 2018
Visitation
Monday, February 5th from 12-2 p.m. at Centerburg United Methodist Church
Service
Monday, February 5th at 2:00 p.m. at Centerburg United Methodist Church
Burial
Eastview Cemetery
Shirley A. Bishop, age 85, of Mount Vernon, formerly of Centerburg, passed away January 31, 2018 at the Ohio Eastern Star Home surrounded by her family. Formerly with the Knox County Auditors Office and retired from Bank One. Member of Centerburg United Methodist Church and a 65 year member of Eastern Star. Shirley was an excellent cook and seamstress and she enjoyed all forms of needlework. Survived by her children, Randall (Susan) Bishop of Utica, OH, Rob Bishop of Little Rock, AR, Lea Anne (Terry) Brown of Eaton, OH and Lynda (Chris) York of Versailles, OH; grandchildren, Bethany (David) Warner, Adam Bishop, Corey (Levi) Shirley, Cara Bishop and Emma York; great-grandchildren, Abigail and Sarah Warner, and Walker Shirley; sister, Helen Harman of Washington, IN; special friend, Bonnie Armstrong. Preceded in death by her parents, A.E. and Irene Byers. Friends may call at the Centerburg United Methodist Church, 65 S. Hartford Avenue, Centerburg, Monday 12-2 p.m. followed by a service at 2 p.m., Pastors David Warner and Matt Skelton, officiating. Interment Eastview Cemetery. In lieu of flowers, contributions may be made to Hospice of Knox County or the Ohio Eastern Star Home. Arrangements by JOHNSON-MELICK-MORELAND FUNERAL HOME, Centerburg, OH.
Condolences
Leigh Anne Severance Manter - Feb 5, 2018
Randy,Rob,LeaAnne,Lynda, and families
My deepest condolences on the passing of your mother. She was the kindest sweetest woman, and she will truly be missed. I will be praying for you all in the days ahead, and will be keeping you in my thoughts!
Love to All,
Leigh Anne
Glenda and Doug Farquer - Feb 4, 2018
So Sorry for your lose, our prayers are with your family in this time of sorrow, may time soothe your broken heart and keep her alive in your memories.