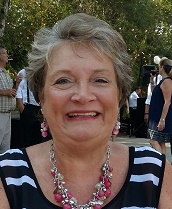 February 22, 1957 - June 20, 2017
Service
July 16th from 1-5 p.m. Autumn Lakes Home
MANN
Sheila Sue Mann, age 60, of Centerburg, OH peacefully passed away June 20, 2017 at home surrounded by her loving family and friends. Formerly employed by The Kroger Co., Secretary for friend/physician Dr. Julie Costello and currently the office manager for the family owned business A. Mann Plumbing.
To Shelia family was everything – she loved people, she loved life and she was always willing to help others. No one was a stranger. Her life was full of excitement starting with her childhood memories at Linden Beach swimming pool but certainly not limited to her favorable family vacations. If there was a memory to be had she created it joyfully. Sheila was a Columbus native, she graduated from New Albany High School, class of 1975.
She started dating the love of her life in 1986 Allen Mann "Bubby". They married July 31, 1987 in her dream home "Mann Resort" in front of the fireplace. Their theme song was, "I can't fight this feeling any longer" typically Sheila, you always found her crying with tears of joy while dancing to this song. Sheila was a longtime supporter of Centerburg Athletics – an active supporter of her "precious boys" and their sports teams (Baseball, Football and Golf) as she was known by many as "Moma Mann". Sheila was a wonderful mother and she will always be their staunchest supporter. We'll never forget her cheers for Moey when he made a good play in football "go little doll GO #60!" or her proud moment of Robbie's hole in one while playing Golf for the Centerburg Golf team.
She accomplished her goal in achieving her vacation home in FL for her family also known as "Mann Paradise". Where her love of Pink Flamingos "Pinka Finga" which grew so much that she faced her biggest fear and had one tattooed her ankle. One of Moma Mann's proudest year was 2016 when her sons, Robbie and Moey were wed to the love of their lives and she gained her two daughters, Sabrina and Brittney. Survived by the love of her life and husband of 30 years, Allen; sons, Robbie (Sabrina) Mann and Spencer "Moey" (Brittney) Mann; father, Howard I. (Cecilia) Herrell; sister, Ginger "Gigi" Garrett; brother, Michael K. (Nadine) Herrell; Moly her four-legged baby; Grammy's Grandpups, Brew Brew, Abbi, Annie and Todd; Lifelong friends, Eileen Boles and Tonya Gonzales; Supportive Friends, Ursula and Gary Hall, Carol Johnson, Linda George, Rena Parrill and Darlene Ross. Preceded in death by her mother, Manilla Herrell, father-in-law and mother-in-law, Stella and Bob Mann, brother-in-law, Dean Garrett, nephews Michael and Mathew Herrell. Much gratitude for our A. Mann Plumbing Family for their undivided support to our family and business needs. Celebration of Sheila will be held at Autumn Lakes on July 16, 2017 from 1PM – 5PM. Address: 8644 Porter Central Road, Sunbury, OH, 43074. In Lieu of flowers, contributions may be made to WARM "Westerville Area Resource Ministry" in Sheila's memory which was close to her heart.
Condolences at www.morelandfuneralhome.com
Condolences
wally baumbusch - Jun 24, 2017
God bless you all during this difficult time. You have so many happy memories to keep in your hearts.
Chuck Pfeiffer - Jun 23, 2017
I am so sorry to hear about Sheila's passing.
I've had Mann Plumbing doing our work for over 20 years.
She was always happy, helpful, and called me "honey"
Made me chuckle every time.
So very sorry for your loss.
She seemed like a good person.
My deepest Sympathies for your loss
Sincerely,
Chuck Pfeiffer & Family
451 Maplebrooke Dr. West
Westerville, Ohio 43082
PS: I'll send a donation to WARM/Westerville in Sheila's memory
Kim and Dwaine Seeley - Jun 23, 2017
So sorry to hear of your loss. Such a sweet spirit and a joy to be around! We send our love and know our thoughts and prayers are with you during this difficult time.
The Wollett Family - Jun 22, 2017
We are so sorry to hear of Sheila passing. She was such a sweetheart who truly cared about everyone. Her infectious laugh will be a joy to the angels and never forgotten. Nor will her quickness to tear up at just about anything. She will be greatly missed. Peace to your family.
Paul Garrett - Jun 22, 2017
I am truly sorry for the passing of Sheila. She was caring, kinda and very loving and welcoming towards my father and us his children. May the angels guide you home. Love and affection to the Mann family.
Paul and Nicole Garrett
Rick and Marlene Derry - Jun 22, 2017
Words can't express how sorry we are for your loss. She was one of a kind and will be missed by all the people her life touched.