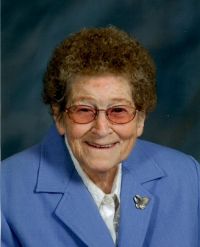 February 17, 1929 - August 25, 2011
Visitation
Sunday, August 28th from 2-4 p.m.
Service
Monday, August 29th at 11 a.m. Moreland Funeral Home
HEISCHMAN
Sara Joan Heischman, 82, passed away on August 25, 2011. Joan was born in Westerville, OH, graduated from Westerville High School, married Jim July 21, 1947, moved to Akron, OH in 1961 and raised her seven children there. Upon their retirement in 1983, they moved to Lakeside, OH and wintered in Zephyrhills, FL. She was very active in various Presbyterian churches, received an Honorary Life Membership in the Presbyterian Women, enjoyed Supper Club, volunteered at East Pasco Hospital in Zephyrhills for over 25 years and enjoyed helping others. She was preceded in death by husband, Jim, three brothers and one sister. She is survived by her children: Jeff (Kuni), Kenny (Heidi), Carol (Pete) Steciow, Susan (Alan) Stevenor, Steve, Scott (Denise), and Sara (Brian) Steinkerchner, 19 grandchildren and 6 great grandchildren. She is survived by her sister Frenchy Lehman, many nieces and nephews, and many special friends in Zephyrhills. Friends may call at the MORELAND FUNERAL HOME, 55 E. Schrock Rd., Westerville, Sunday, August 28 from 2 to 4 p.m., and where services will be held Monday, August 29 at 11 a.m., Rev. Robert Butcher officiating. Interment at Pioneer Cemetery. In lieu of flowers, contributions may be given to First Presbyterian Church, 5510 19th St., Zephyrhills, FL 33542 or any charity of your choice.
Condolences
Gail Miner/Lillian Inglis - Aug 31, 2011
Lillian and I are snowbirds but get involved in First Presbyterian Church in Z'hills, FL. Thats how we got to know Joan. Always a pleasant lady doing the most/best that she could for all. We will miss her presence At FP when we return to Z'hills this Jan and for now we will hold you in our thoughts and prayers.
May God's blessings cover you in the days ahead as you adjust to changes in your lives.
Blessings, Gail Miner(Nova Scotia, Canada and
Lillian Inglis (Alberta, Canada)
Dell Anderson - Aug 30, 2011
I posted a note on line but decided to see if the funeral home had something and discovered this. My thoughts and prayers are with the entire family. Joan was missed as soon as she left Zephyrhills. All who knew her here felt empty. This emptiness is deeper now but I am sure we all know she is with her "hubby" now and feeling great. We just have to learn to accept her being gone but she will never be forgotten. All of you take care and we are glad that we had a chance to know her!