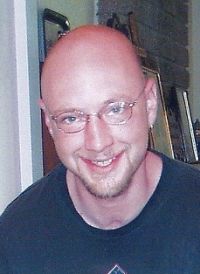 July 3, 2010
Visitation
Thursday, July 8th from 2-4 and 6-8 p.m.
Service
Friday, July 9th at 11:30 a.m.
PORTEOUS
Samuel B. Porteous, IV, age 31 of Columbus; died Saturday July 3, 2010 as the result of a motorcycle accident. Sammy is survived by his parents; Samuel B., III and Antonia (Toni) Porteous. Sister, Catherine (Katie) Porteous, brother, Daniel Porteous; great uncle John Porteous. Many aunts, uncles, cousins, friends and his dog Gracie. We love you Sam and will miss you dearly. Friends may call at the MORELAND FUNERAL HOME 55 East Schrock Road Westerville, Thursday 2-4 & 6-8 p.m. where service will be held 11:30 A.M. Friday July 9, 2010. Inurnment will be held at a later date at Burnside Cemetery.
Condolences
mary soto - Jul 11, 2010
Thinking of all of you today. Sammy was very special to me as you all are….Im going to miss him a lot. Love to you all
mary
Nicole Wise - Jul 8, 2010
I love you Katy!
Nicole M Wise - Jul 8, 2010
Dearest Porteous Family,
I am so sorry for your loss and I still cannot believe this has really happened. I know that Sammy is in a better place looking down on all of you and riding fast. Keep eachother strong and God Bless
With love,
Nicole, Michael,Noreen Wise & Brian Loschert
Cheryl Eck-Kelly - Jul 7, 2010
Toni,
I am just sick that Sam is gone. I still see Sam & David running around as young kids at church. Sam was always a sweet guy and so full of life, the world will not be the same without him. I guess God really needed him to come home, but I can only imagine what you are going through. You and your family are in my thoughts and prayers!
Cheryl Eck-Kelly
Robin Yuenger - Jul 6, 2010
Toni, I am so sorry to hear about Sam. My thoughts and prayers are with you and your family at this difficult time.
Maureen Kaiser - Jul 6, 2010
Toni,
My prayers are with you and your family. I am deeply sorry for your loss.
Maureen Kaiser