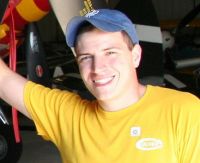 October 3, 1987 - April 14, 2011
Visitation
Tuesday, April 19th from 2-4 and 6-8 p.m.
Service
Wednesday, April 20th 1 p.m. at Central College Presbyterian Church
WILLIAMS
Ryan A. Williams, age 23, of New Albany, OH. April 14, 2011. Graduate of The Culver Military Academy in 2006 where he received the Albert Lawrence Kurtz Memorial Award (best all around Lt. cadet), attended Virginia Military Institute and currently a senior engineering student at The Ohio State University. Ryan was a passionate hockey player, aviator and motorcyclist. Vice Chairman of the Buckeye Electric Motorcycle Race Team (BEMRT). He was a competent, engaging young man who surrounded himself with quality people and filled his days with worthwhile endeavors. He is survived by his parents, Lynda and Reed Williams of New Albany; grandparents, Elizabeth and Roger Dumaree, Jack and Joanne Williams; aunts, Ann Williams and Michelle Wolfel (Dustin Givens); uncle Roger (Lisa) Dumaree; several cousins, other relatives and many friends. Friends may call at the MORELAND FUNERAL HOME, 55 E. Schrock Road, Westerville, Tuesday 2-4 and 6-8 p.m.. Service will be held at Central College Presbyterian Church, 975 S. Sunbury Road, Westerville, Wednesday ay 11 a.m., Dr. Richard Ellsworth, officiating. Private interment. In lieu of flowers, a donation in memory of Ryan Williams to Culver Military Academy, 1300 Academy Road #153, Culver, IN 46511 would be appreciated.
Condolences
Dean and Lynne Eicher - Apr 20, 2011
Reed and family,
We just heard and had to communicate our most heartfelt condolences. Words are completely inadequate to convey the depth of our sorrow and concern for you and yours. Our prayers are for your peace and healing in such a time of grief, yet hope, too, that you can celebrate Ryan's life and hold on to the each of the wonderful memories.
God Bless each of you,
Dean and Lynne Eicher
Todd Erickson - Apr 18, 2011
Ryan Williams was a great guy! I enjoyed getting to know him as part of his hockey team and loved his sense of humor.
Words can't express my regrets to the family. A VERY sad day as a great person was lost way too early.
Todd Erickson
Rosie Quinzon-Bonello - Apr 18, 2011
My sincerest condolences for your loss.
Ed and Ellen Yen - Apr 17, 2011
Dear Lynda and Reed–
Our heartfelt condolences over the loss of Ryan. He was a energetic, fun-loving and personable young man and we were glad we were able to know him. We'll never forget those years with the Storm and the many games we all attended. I even got to skate a few times with Ryan in drop in games and he never chided me for being the "old man". I know Peter will be saddened by his passing and will remember the great times on the Storm they both had.
Ed and Ellen Yen