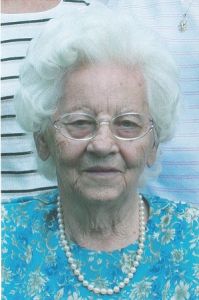 August 16, 1919 - April 17, 2011
Visitation
April 20th, 2011 6-8 p.m.
Service
Thursday, April 21st, 2011 1 p.m. Central College Presbyterian Church Chapel
BOYD
Ruby F. Boyd, age 91, of Westerville, OH, formerly of Logan, WV. April 17, 2011. Member of Eastern Star and McConnell Tabernacle. Loving mother and grandmother. Enjoyed spending time with family and created many wonderful memories. Ruby will be remembered for her unconditional love, sweet spirit, quick wit, great cooking and many games of 500 Rummy. Survived by children, Walter "Pete" (Phyllis) Boyd of Scott Depot, WV, Janice (Charles) Carroll of Westerville, James (Christine) Boyd of Ipswich, England and Judith (Wayne) Fulmer of Steubenville, OH; 14 grandchildren and 25 great-grandchildren; sister, Hazel Childers of Altus, OK; several nieces and nephews. Preceded in death by her husband, David L. Boyd. Friends may call at the MORELAND FUNERAL HOME, 55 E. Schrock Road, Westerville, OH Wednesday 6-8 p.m.. Service will be held at Central College Presbyterian Church Chapel, 975 S. Sunbury Road, Westerville, Thursday at 1 p.m., Rev. David Redding, officiating. Interment Blendon Central Cemetery. Family would like to thank the aides and nurses for their wonderful care. In lieu of flowers, contributions to Acclaim Hospice or Central College Presbyterian Church would be appreciated.
Condolences
Patty Petrosky Montgomery - Apr 23, 2011
to the Boyd family especially Judy and Jim…I am so sorry for your loss..I really enjoyed conversations with your mother on the front porch at Stollings…by best to each of you.
Patty, Virginia Beach.VA
Justin Helen Lily Owen & Jack - Apr 21, 2011
Although separated by several thousands of miles, Mimmie has and will always remain in our heart and thoughts. She was a loving grandmother to me and my brother & sisters, with fond memories of sitting on the porch stringing beans. I wish I would have been able to return to America for Mimmie to have met my wife and 3 more of her great grandchildren. Our thoughts are with all the family but especially to my father James at this sad time. Love Justin Helen Lily Owen & Jack – Ipswich , England
Carl Damron - Apr 20, 2011
This is Carl and Cheryl Damron, Marie Damron's son. Just wanted to send our prayers and condolences to the family. Have really missed the family reunions and seeing everyone. We will all be reunited in Heaven one day, and Uncle David and Aund Ruby will be waiting for us there.
Jack and Dee Dorminey - Apr 20, 2011
Dear Judy, Wayne, Jan, Charlie and families:
It isn't usual that people feel like family to those not related, but that wasn't the way you could feel around Ruby. She and your Dad just had a way of making people around them feel like relatives. Jack and I were certainly blessed to be part of that 'extended' family group.
It's difficult to say her name without thinking of the virtuous woman in Proverbs 31. Your mother was 'a price far above rubies.' Her life truly is exampled in this beautiful proverb.
Our heartfelt sympathy to all of you who cared, loved and served her so closely during these past years. We are privileged to have known her. Our prayers are with all of you. And our hope is that you have a sense of comfort knowing she is where she ultimately wanted to be.
Love you. Jack and Dee Dorminey
Myla Witten - Apr 19, 2011
I have pulled up the obituary – very nice. I will make a copy and send it to Bobbie. Your lives will not be the same without your mother. My thoughts are with all of you. Myla
Susan Ferrell Crites - Apr 19, 2011
ATTN: Phyllis Boyd
I would like to express my condolences for the
loss of your mother-in-law, Ruby. I remember
her as a wonderful lovely lady when she attended the McConnell Tabernacle. May God give you and your family comfort during this time.
Love and Prayers, Susie from Logan
Joanie & John - Apr 19, 2011
After hearing from you yesterday I was so said to hear of your family's sad news. Mimmie was so beautiful and always so much fun!!! I will never forget our camping weekends and our shoe shopping. Those two events don't seem like they go together but they did. I look around at our friends and I know that at some point everyone loses a parent and the only thing you can do is cherish them while they are here and speak of them often when they are gone. Mothers are blessed when they are loved as much as you loved your mother. Jan and Judy, you have been beautiful, caring and loving daughters and I wish you and your families all the strength to get through your grief. Take care of each other and make every day count.
We are here for you and love you.
Joanie and John
Jeff Proya - Apr 18, 2011
In moments when words are hard to find I trust you will find comfort in God's presence and love and in the memories of cherished moments of life remembered. You have been blessed! Our thoughts and prayers are with you and your family. In Christ Jeff&Kathy