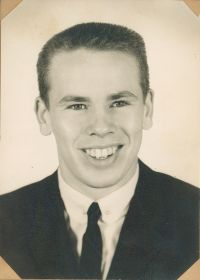 July 5, 1942 - November 13, 2012
Visitation
Sunday, November 18th from 2-7 p.m.
Service
Monday, November 19th at 11:00 a.m.
BURKEY
Ronald E. Burkey, 70, of Westerville and proudly of the Linden area passed away on Tuesday, November 13, 2012, and was surrounded by friends and family. He was born on July 5, 1942 where he graduated from Linden McKinley and attended OSU. Ron retired from the the car business after 37 years and was the current owner of Larry B's Sports Lounge in Westerville. He was very active with Charity Newsies, Muirfield Memorial Tournament, Scumbag Golf Tournament, along with numerous charities over the years. Ron was an extremely giving man, who lived a long, full life and never ever met a stranger. He was preceded in death by his wife Paula Burkey, parents Louise and Roland Warner and Forrest Burkey, along with brothers Jerry and Jack Warner. He is survived by children Dawn (Darryl) Becker, Darren (Chanda) Burkey, grandchildren Austin and Taylor Ford, Peyton, Cade, Bryce and Kiely Burkey, sister Sonnie (Roland) Jones, brother William (Theresa), nephew Matthew Martin, close friend Cheryl Christy, nephew Rob (Debbie) Beer, niece Marianne (Chad) Ruwe, nephew Ryan Warner, brother-in-law Mark (Drew) Karamalakis, niece and nephew Katie and David Karamalakis along with many relatives and friends. A very special thanks to Dr. Larry Everhart, nurse Cheryl and staff for their wonderful care. Family will receive friends at MORELAND FUNERAL HOME, 55 E. Schrock Rd., Westerville, OH. (614) 882-2197 on Sunday from 2-7 pm with the funeral on Monday at 11am. Pastor James Meacham will be officiating. Friends if they wish may contribute to The Charity Newsies or Kids'n Kamp charities.
Condolences
Josie Cook Magsig - Nov 19, 2012
Dawn and Darren, so sorry to hear of your father's passing. The video really brought back lots of memories of your mother and father and family. Heartfelt thoughts and prayers for all. Josie Cook Magsig
Donnie Stratton, PH.D. - Nov 18, 2012
There is a saying "Some people come into our lives and quickly go. Some people stay a while, leaving footprints on our heart and we are never the same". I can assure you Ronnie was that kind of a person for not only me but for everone's life he came in contact with. I'm a better person for having the privilege to have known Ron. He will be missed but will always be in everyone's heart.
Lisa Kondas - Nov 18, 2012
All things in prayer, you are in ours.
Blessed be His name.
Jeff & Lisa Kondas
Jess - Nov 17, 2012
I built the pond for Ron and Paula and it was a special treat for me to see them every spring. Ron was always fun to work with.
Jess
GEORGE WITHROW - Nov 17, 2012
IT WAS A PLEASURE KNOWING RON. A FEW GOOD MEMORIES. HE WILL BE GREATLY MISSED.
WOULD LOVE TO BE AT SERVICES, BUT I'LL BE OUT OF TOWN!!!
Ann Chaney - Nov 16, 2012
My thoughts and prayers are with Ron's family at this sorrowful time. Ron was one of the nicest and kindest men I have ever met. I would so love to be able to pay my respects Sunday and Monday, but I will be out of town at that time. RIP Ron, you will missed by so many.
Lynda & Jeff Dierker - Nov 16, 2012
Ron was a great guy and we both will miss him dearly. He will remain in our hearts forever. It was a privilege to have had him as our friend.