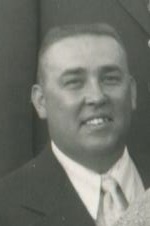 October 8, 1934 - December 6, 2015
Visitation
Visitation Saturday, December 12, 2015 from 10 a.m.-12 noon at Moreland Funeral Home
Service
Saturday, December 12, 2015 at 2:30 p.m., Concord Cemetery
Burial
Concord Cemetery
THOMPSON
Robert Irvin "Tommy" Thompson, age 81, of Westerville, OH. Bob was born in Columbus, OH October 8, 1934 and passed away December 6, 2015. Bob lived his entire adult life in Westerville. Attended Rome School and graduated from Hilliard High School in 1952 and Otterbein College in 1959. Army veteran of Korean War (1954-1957), basic training at Fort Knox, KY, jump school at Camp Kashii, Japan, member of 187th R.C.T. and 508th Red Devils and honorably discharged at Fort Sheridan, IL. Retired from the U.S. Postal Service with several commendations after 30 years and 4 months as a letter carrier. Member of Amvets Post #89, American Legion, AARP and National Association of Letter Carriers. A font of baseball facts, Bob greatly enjoyed playing and listening to baseball and Bluegrass music. He was a good, loving and dependable family man and friend. Survived by his wife of 56 years, Barbara "Bobbi"; daughter, Kathleen S. Thompson-Casado; son, Glenn W. (Jessie) Thompson; granddaughter, Wesley A. Thompson. Preceded in death by his parents, Opal Laird and Irvin Alonzo Thompson, granddaughter, Kelsey K. Thompson and son-in-law, Carlos Casado. Friends may call at the MORELAND FUNERAL HOME, 55 E. Schrock Road, Westerville, Saturday from 10 a.m.- 12 noon. Graveside service and interment, Concord Cemetery in Londonderry, OH (Ross County) Saturday at 2:30 p.m. with Military Honors. In lieu of flowers, contributions may be made to Mt. Carmel St. Anns Hospice.
Condolences
Rick, Harriet & Zack Holloway - Dec 10, 2015
Glenn, Our thoughts are with you and your family during this difficult time. Condolences.
mike mcguire - Dec 8, 2015
I worked with Tommy at Beechwold Station for many years, and he worked with my dad in Linden. He always had a kind word and loved his job. I will miss his smile and counseling that he gave me when I had the loss of my father Jack.
Steve Sapp - Dec 8, 2015
I have lots of memories of Tommy from the 4th of July celebrations to Florida vacations. And, his love of baseball and the Reds and how he scored every game for many years.
Jean Stockwell - Dec 8, 2015
I have so many memories of Bob – Woods Parties, Wild Game Dinners and listening to the guys play Blue Grass Music. My sincere sympathy to the family.
BOB WRIGHT - Dec 7, 2015
ALTHOUGH I HADN,T SEEN BOB IN YEARS,I WILL MISS HIM.I LOVED THE MUSIC HE AND NEIL AND THE OTHERS PLAYED AT THE WOODS PARTIES.WHAT A GREAT GUY.WITH SYMPTAHY ,BOB WRIGHT.
don and judy dibert - Dec 7, 2015
our thoughts and prayers are with you and your family. i remember
all the fun times spent with bob and bobby, wayne and the group singing
and playing guitars. those were the good old days. MEMORIES.
Dave and Joyce Warner - Dec 7, 2015
Condolences from the Hilliards High School Class of 1952 and the former "Green Weed Boys". Bob was my classmate for 13 years and my musician buddy for many seasons of grade school, high school and one year at Otterbein College. Bob made it to our 50th HHS reunion. He will be missed by all. Bobbi, you and Bob have both been friends for many years with you both attending Otterbein with me, as well. His parents and Dave's parents were also friends for many years. We go way back!
Judy gorsuch - Dec 7, 2015
Bobbi,
This is a really good photo of Bob.
We have a lot of good memory's of the two of you?
We are sorry for your lost.
Judy and Neil
Jennifer Stockwell & Family - Dec 7, 2015
Bobbie and Family-I have such amazing memories of Bob and my dad Neil singing and playing music together.. something that I will never forget. Thinking of you guys!! Prayers and Peace!
Laura Sapp Helling - Dec 7, 2015
Tommy was definitely one of the good guys. I have very fond memories of him being a part of my childhood. Love to the family
Gregg Sapp - Dec 7, 2015
Very sorry to hear. I remember our families camping out at East Harbor State Park and Tommy serenading all of us at the campfire singing "The Wabash Cannonball". My thoughts and sympathy to the family.
Leona Sapp - Dec 7, 2015
So many wonderful memories – your 4th of July parties. Our Florida vacations. How Tommy loved the salt water.
All my love, Leona "Punkie" Sapp
Hamm Family - Dec 7, 2015
My sincere condolences to your family during this difficult time. May you turn to "the God of all comfort" to help you cope with your loss. (2 Cor. 1:3,4) And take comfort in knowing the hope he has promised regarding our dead loved ones. (John 5:28,29)