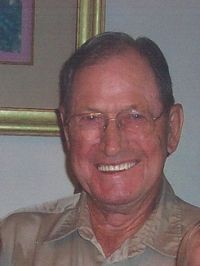 April 1, 1919 - November 4, 2012
Visitation
Wednesday, November 7th from 2-4 and 6-8 p.m.
Service
Thursday, November 8th at 10:30 a.m.
GRIFFITH
Robert Franklin (Frank) Griffith, 93, of Centerburg passed away Sunday night, November 4, 2012, at Knox Community Hospital where he had been surrounded by family and friends. Frank was born April 1, 1919 in Russell County, Virginia to the late Ida Belle Blankenship Griffith and Jonathan Melvin Griffith. He married the late Pauline (Pruett) Griffith in 1942. Frank, a Navy veteran, was well known and respected by all who came into contact with him. Frank was a hard worker from his earliest days when he worked three jobs to support his mother and siblings. He continued his inspiring work ethic throughout his life, and took great joy in passing on his humble yet remarkable qualities to his family. He was founder and owner of Griffith Farm Service in Centerburg for 28 years. He had a sincere acceptance of all who he met, and found the good in everyone. He loved farming, gardening, working in his yard and most of all spending time with his family and friends. He is survived by his son, Robert J. Griffith and his wife, Arlene White Griffith of Centerburg; daughter, Phyllis Love and her husband Kenny of Centerburg; his grandchildren Drew (Jennifer) Love, Brody (Kerry) Griffith, Stori Love (Clint) Rex, Tyler (Amanda) Griffith and Sheena Griffith; nine great grandchildren; nieces and nephews; companion of 15 years, Patricia Courtright and caregiver/best friends, Leda Walker and her husband Bart. He is preceded in death by his parents; wife of 56 years, Pauline Pruett Griffith; 12 brothers and sisters. Friends may call at the JOHNSON-MELICK-MORELAND FUNERAL HOME 49 West Church Street Centerburg, 2-4 & 6-8 p.m. Wednesday November 7th where service will be held 10:30 a.m. Thursday November 8, 2012. Roger Crego, Minister. Interment Eastview Cemetery. A special thank you from the family goes to Centerburg Pointe Nursing Home for the loving care that was given to Frank and his family in his final year and to Knox Community Hospital Palliative Care for the kindness that was shown to Frank and his family in his last few days of life.
Condolences
Jeanne & Jim - Nov 9, 2012
To the entire Griffith family, we were saddened to hear about the loss of such a wonderful man. If a person's life is measured by his family and friends he was a very happy, wealthy man. We loved his humor and just being with him. Sending love your way, Jeanne & Jim
Bob Harrod - Nov 7, 2012
You have my deepest sympathy. What a wonderful man such a good honest person. Hauled grain there many times. Bob Harrod
John and Rita Collins - Nov 7, 2012
Uncle Frank was always a special person to Johnny and me. You could count on a smile every tme you met him and he was kind and generous to his family and truthfully to everyone who came along. He was a great brother to my dad and a wonderful uncle to me. We'll miss him. God bless you all! Rita
Chad & Becki Jacobs & family - Nov 6, 2012
Your families are in our thoughts and prayers. Our family is blessed to know yours. Sending lots of love in the days and weeks ahead.
Chad, Becki, Caleb, Cody, Sierra & Carly Jacobs