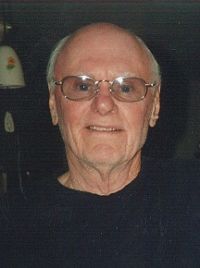 February 24, 2011
Visitation
3-7 p.m. Sunday, February 27th
Service
11 a.m. Monday, February 28th Moreland Funeral Home
DRAYER
Robert E. "Bob" Drayer, 80, of Westerville, passed away Thursday February 24, 2011 surrounded by his loving family. Retired account executive, Industrial Tape Division of 3M Company. Member of Church of the Messiah United Methodist.
Veteran of U.S. Marine Corps. 1948 graduate of West High and 1955 graduate of The Ohio State University and OSU Alumnus. Life Master Bridge Player and Red Cross Blood Donor. Enjoyed reading, golfing and fishing. Preceded in death by son, Mark; parents Wilbur & Elma Drayer. Survived by wife, Carm. Son, Matt (Winnie) of Galena. daughters; Molly (Rob Kibler) of Marengo and Mindy (Randy Kortokrax) of Westerville. grandchildren; Kelsi, Cori, Casey, Kylan, Kamryn, Madelyn and Danielle. sister, Laraine (Dick) Steigerwald of Cincinnati, OH. nephew Jason and niece Jill. Friends may call at the MORELAND FUNERAL HOME 55 East Schrock Road Westerville, Sunday 3-7 p.m. where service will be held 11:00 a.m. Monday February 28, 2011. Rev. James Wilson officiating. Interment Blendon Central Cemetery.The family wishes to express a heartfelt thanks and appreciation to the staff at the Village of Westerville.
Suburban News Westerville Papers
Condolences
Dianne Moore - Mar 1, 2011
Dear Matt and family,
My son, Kelly, let me know about the death of your father. Matt, I am so sorry for your loss. The good thoughts and memories of your father will be forever in your heart. I lost my father 29 years ago,and I think of him every day with great joy and love. The same will be for you, Matt.
Jenny (Click) Davis - Feb 28, 2011
Carmel, Mindy and all of the Drayer Family, please know that you are all in our thoughts and prayers during this difficult time. Bob & Carmel have raised a very special family and Bob had much to be proud of! I have such fond childhood memories of playing with Mindy and "hanging out" at the Drayer house. Bob was always so much fun to be around and he will surely be missed. May God grant all of you the comfort and peace that only He can give. Cherish all the wonderful memories.
Love,
Derek & Jenny(Click)Davis
The Troys - Feb 27, 2011
Our condolences to your family. We will miss one of the "best bridge players" we met at Aloha.
Joanne and Jay
The Freys - Feb 27, 2011
We are sorry we cannot make the trip home from St. Louis to be at the funeral services today and tomorrow. Please know that we're thinking of you, and our hearts go out to you in your time of sorrow. May the peace which comes from the memories of love shared, comfort all of you now, and in the days ahead.
Love & Prayers Always,
Linda, Doug, Ava, Anna, and Evan
Lynne Hileman Leibrand - Feb 26, 2011
Our family's thoughts and prayer go out to your family. I went to school with Mark and had met Mindy a few times but see her on tv. I lost my mother last July unexpectedly and can understand what you are going through. Just remember went you feel as if you can't go one more step, that is when the good Lord will carry you. May you share and enjoy memories you hold that will never replace your loved one but they also cannot be taken away. They are forever. Prayers to you all.
The Rayboulds - Feb 25, 2011
So sorry for your lose. Thoughts and prayers to you all.