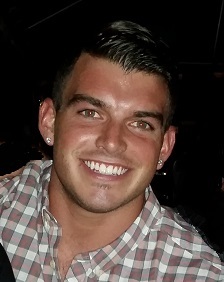 December 1, 1991 - July 28, 2022
Service
Saturday, August 6th from 12-1 p.m. at Moreland Funeral Home
Robert Bradford Perrine, 30, passed away July 28, 2022. Robert was born December 1, 1991, to Brad Perrine and Kathy Lindeman Perrine. Robert attended St. Paul Grade School and graduated from St. Francis DeSales High School in the class of 2010. He picked up a golf club at the age of 2 and grew a love for the game and for multiple other sports. He was a tri-sport athlete most of his life and ended his career as the starting fullback on the 2009 Football State Champion Runner-ups. He was part of a very special group of young men that were extremely talented, and was a true Stallion!
Robert was an avid Buckeye fan. He attended countless football, basketball, and baseball games growing up. His favorite among them always being the Ohio State vs *ichigan football games.
Roberts greatest passion was his family. He met the love of his life Taylor in 2012. They started their family with Sienna (8) and their little family quickly grew from three to six with Skylar (2) and twins Easton and Emerson (9mos). Nothing was more fulfilling than being a father to his 4 beautiful children. Snuggling and watching his babies grow and discovering their individual personalities. Building a special bond with Skylar who loves to repeat everything he said. Robert especially loved participating in and watching Sienna trying new activities and watching her love of horseback riding, softball, and soccer grow.
Robert loved the time he had with his entire family on holidays and other special occasions when both sides would gather for a meal, games, and lots of laughs under one roof. His infectious smile and charm would light up the room wherever he went. Robert was an extremely loving husband, father, son, brother, and friend.
Robert is survived by his wife Taylor Mecouch Perrine, daughters Sienna, Skylar, Emerson, and son Easton, father Brad, mother Kathy, brothers Alex and Kole, aunt and uncle Julie and Brian Hanrahan, cousins Timothy, Casey, Patrick, and Joseph, uncle Tom Perrine, cousins Samantha and Jason, aunt and uncle Jane and John Slanoc, cousin Mia, uncle Rich Perrine, cousins Lexi and Avery, grandmother Judy Lindeman, uncle Bruce Gallagher, cousins Katie, Jack, and Tommy, and cousins Lane and Gunnar Lindeman.
Robert is preceded in death by grandfather Chuck Lindeman, aunt Patti Gallaher, uncle Bob Lindeman, grandmother Jean Burrell Perrine, and cousin Blake Perrine.
Robert was loved by all, will be missed many, but will never be forgotten. May you rest in peace in your new home. We love you Robert.
In lieu of flowers the family has set up a Gofundme account for Robert Perrines children for furthering education. There will be a short service at Moreland Funeral Home, 55 E. Schrock Rd., Westerville on Saturday August 6 from. 12-1. Immediately following Roberts family would like to invite you to a Celebration of Life where the family will greet all friends and family in a casual setting. The Celebration will be held at The Lakes Golf & C.C., 6740 Worthington Rd, Westerville from 1:30-4:00.
Condolences
Anne O'Flynn - Aug 5, 2022
I am very saddened to hear of Robert's passing. I will always remember him as the bright and happy young man who brought joy to everyone.