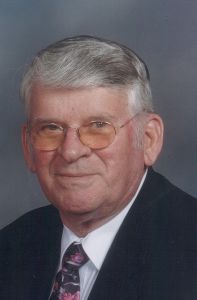 January 2, 1934 - August 15, 2014
Visitation
Monday, August 18th from 2-4 and 6-8 p.m.
Service
Tuesday, August 19, 2014 1:30 p.m. at Moreland Funeral Home
ARMSTRONG
Robert A. Armstrong, 80, went home to be with the Lord on August 15, 2014 at the Kobacker House in Columbus, OH. Born on January 2, 1934, he married the love of his life, Ethel Dodrill Armstrong in 1962. He served in the US Army.The couple was blessed with their only son in 1972. He was the manager for shipping and receiving for Adria Labs until his retirement. Above all, Robert was a good Christian man who served the Lord throughout his adult life. He belonged to the Genoa Dayspring Church where he furthered his journey in faith as a member of the Men of Faith Bible Study. He loved and was loved by his family and friends and was respected by all who knew him. He was a dutiful and loving husband, father and grandfather. He is survived by his wife of 52 years, Ethel (Dodrill) Armstrong; daughter-in-law, Danna (Rubel) Armstrong; and grandchildren, Joel and Gwennan. He is also survived by his sister, Pat Baas; brother, Mike (Barb) Armstrong; and stepsister, Phyllis King; brothers-in-law, Delmer (Phyllis) Dodrill and Denver (Marilyn) Dodrill; sisters-in-law, Etta Hammons and Esther (Lee) Huddle; many nieces and nephews and dear lifetime friends. Robert was preceded in death by his son, Robert (Robb) Armstrong; brother, James Armstrong; stepbrother, John Farner; brothers-in-law, John Dodrill and Ron Hammons; and his parents. Friends and family will be received at MORELAND FUNERAL HOME, 55 East Schrock Road, Westerville from 2-4 and 6-8pm on Monday, August 18. Funeral services will be conducted by Dr. Danny Gordon and Rev. Denver Dodrill 1:30 on Tuesday, August 19. Interment will follow at Blendon Central Cemetery. In lieu of flowers, the family has asked that contributions may be made to Genoa Dayspring Church.
Condolences
Christ Community Wesleyan Church - Aug 18, 2014
The people of Christ Community Wesleyan Church want you to know we are deeply sorry for your loss. We are happy to know he is with his Lord and will be throughout eternity. Please know we are praying for you in your time of grief.