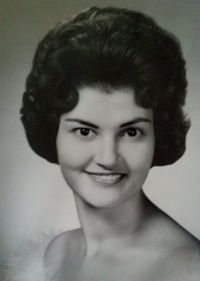 January 27, 1946 - July 2, 2013
Visitation
Sunday, July 7, 2013 from 2-5 p.m., Moreland Funeral Home
Service
Monday, July 8, 2013 at 10 a.m., St. Matthias Catholic Church
McCALLA
Rita Louise McCalla, age 67, passed away on July 2, 2013. She was born on January 27, 1946, in Columbus, Ohio, to the late Erma and Louis Magistrale. Rita graduated from Linden McKinley High School in 1964. Survivors include her loving and devoted husband, Daniel, of Westerville, her daughters Kelly McCalla (Beau Rymers) of Westerville, and Tracy McCalla of Sunbury; five grandchildren, Danielle and Derek Rymers and Nicole, Mackenzie and Brooke Thomas; brother Louis (Carol) Magistrale of Dublin, sisters Judy Berry of Atlanta and Cynthia Lewis (Kevin Hendershot) of Newark, brother-in-law Michael (George Ann) McCalla and numerous nieces, nephews, great nieces and great nephews, cousins, aunts and uncles, and very dear friends. Rita had a successful career at Anthem Blue Cross/Blue Shield where she also leaves many cherished friends and colleagues. She will be celebrated and always remembered for her beautiful smile, words of encouragement, sage advice, fierce determination and optimism, and the love that she shared with everyone who knew her. Everyone believed in her deep and special connection with prayers and faith reaching our Dear Lord in times of need and thanksgiving. Family will receive friends from 2-5 p.m. on Sunday, July 7, 2013, at the MORELAND FUNERAL HOME, 55 E. Schrock Road, Westerville. A Mass of Christian Burial will be at 10 a.m. on Monday, July 8, at St. Matthias Catholic Church, 1582 Ferris Road. Fr. Raymond Larussa, celebrant. Interment will follow at Maplewood Cemetery in New Albany. Visit www.morelandfuneralhome.com for information and to share a favorite memory of Rita.
Condolences
Harry Lyons - Jul 15, 2013
My heartfelt sympathy to the McCalla family. I had just learned of Rita's passing. What an extraordinary person. Rita and I were in the very first class that graduated from the St.Matthias grade school in 1959. She was a remarkable friend.
Roberta McCalla - Jul 6, 2013
Danny, Tracy , Kelly and family. I am so sorry I can not be with you during this difficult time but know that you are indeed in my prayers and thoughts. Rita was a pillar in our family from the day she married in. I remember that wedding and all the fun times through out the years. Rita was a kind and caring person and will never be forgotten.
I love you all and will be with you in spirit.
Kay Biggs (McGuire) - Jul 6, 2013
To the McCalla Family: I worked with Rita at BC/BS from 1971-1977, the first five years my name was McGuire, then I was married in 1976 and became Biggs. Rita was one of the kindest persons I have ever known. She never had a harsh word to say about anyone. Our afternoon break group included; Grace Kerchner, Arlene Headings, Rita and myself. Rita was always a joy to talk with during break time and everyday. Rita was so gracious and devoted. She was truly so proud of Dan and the girls. After I left BC/BS, I discovered Rita and I had another link in our lives. I became an instructor for healthcare and one of my students was Roberta McCalla. Bobbie and I became quite close and still are. When Bobbie's father passed away, Rita and I met again and were able to renew our friendship.
My thoughts and prayers are with Dan, the girls and all the family.
Kay Biggs
Jan Anasis - Jul 5, 2013
Rita was a wonderful Mom-figure to me. She was the first person to cook vegetables that I actually loved. I grumbled when she asked me to carry pancake mix to Kelly in London but thought it was amazing that she worked to extend her love to her kids wherever possible. She laughed and smiled easily, making everyone close by think she was sincerely interested in just them for that moment. She gave her adult children privacy and respect but jumped in to nurture them whenever it was helpful.
I will miss her as will my whole family.
Jan Anasis
Jean Wood - Jul 5, 2013
I knew Rita at Anthem BC/BS. She was a lovely and kind person. My condolences to Dan and all her family.
Jean - Jul 5, 2013
I know Rita from Anthem BC/BS. She was always a lovely and kind person to talk with (though we did not actually work together). May your memories comfort you at this time.
Linda Anello - Jul 5, 2013
Dear Dan, Kelly & Tracy, I was shocked to read about Rita. My sincere sympathy to all of you and your families. I worked with Rita and she was always so proud of her family. She always gave her all at work but never forgot what was really important in life; faimily & friends. So sorry for your loss.
Phil and Nancy Gardner - Jul 5, 2013
We were both so very sorry to hear of Rita's passing. Phil went to school with Dan and I knew her through him. She was so very much loved and adored by everyone. I miss her from the class reunions where she and I would sit and talk. I also went to Linden McKinley but graduated in '58. She was always friendly and I enjoyed our conversations so very much and she made me feel welcome to the Westerville reunions. She will be missed greatly. We both send our sincere sympathies. May God bless all of Rita's family.
Tanya Waite - Jul 5, 2013
Dear Dan, Kelly, Tracy and family. I was so very saddened to hear of the passing of your wonderful wife and mother, and very dear friend to many. I had the great pleasure to work for and with Rita for many years. And to be included in her vast circle of friends outside of work. In all that Rita did and all that she was, family was her center. Friends were very important too of course, but I doubt I will ever know anyone again who exhibited such class, positivity, and honor in everything she did and in the caring and love she gave so freely to others. Rita was the epitome of a wonderful human being. I once told her, when I grow up, I wanted to be just like her. She laughed out loud. The internal joy she seemed to have and share with everyone she met, even in the face of adversity, was nothing less than phenomenal. She was grace, beauty and love all rolled into one ball of energy. I will always feel blessed to have known her and will hold dear, always, the essence and light that was Rita. With love, Tanya Waite
Missy McCalla - Jul 4, 2013
To my Aunt Rita-
I will miss you always. The sweetness, the smiles, and the laughter you brought to my life will always be remembered and cherished.
To Uncle Danny, Kelly, and Tracy
My love and condolences to all of you. My hope is that it brings you some comfort to know that although God has called her home, her strength, her love, and her light will always be shining here through all of you. My love, thoughts, and prayers are with all of you not just now but always.
Sally Kelly - Jul 4, 2013
I had the privilege of working with Rita for many years at Anthem and ejoying some of the breakfast gatherings. She was always so kind and made me want to be a better person in her presence.I hope the family can take some comfort in knowing how proud she was of each of you and how much you were loved. My thoughts and prayers are with you. Sally Kelly
Montie Gardner - Jul 4, 2013
Dear Dan, Kelly, Tracy, and Family,
I am so deeply saddened at the passing of your beautiful and always gracious wife, mother, grandmother, sister, and aunt. Renee and I wish so much we could be there to help comfort and encourage you.
Rita's faith, determined optimism, and graciousness were traits I always admired and marveled at. May the grace, mercy, peace, and strength of our Loving Savior undergird, strengthen, support, and encourage you now and through the coming days of adjustment knowing that she is in a beautiful place prepared by her Savior where there are no more tears, no more sorrow, no more pain, no more hurt, but only love, beauty, joy, and happiness.
With deepest sympathies,
Montie and Renee
Montie Gardner - Jul 4, 2013
Dear Dan, Kelly, Tracy, and Family,
I am so deeply saddened at the passing of your beautiful and always gracious wife, mother, grandmother, sister, and aunt. Renee and I wish so much we could be there to help comfort and encourage you.
Rita's faith, determined optimism, and graciousness were traits I always admired and marveled at. May the grace, mercy, peace, and strength of our Loving Savior undergird, strengthen, support, and encourage you now and through the coming days of adjustment knowing that she is in a beautiful place prepared by her Savior where there are no more tears, no more sorrow, no more pain, no more hurt, but only love, beauty, joy, and happiness.
With deepest sympathies,
Montie and Renee