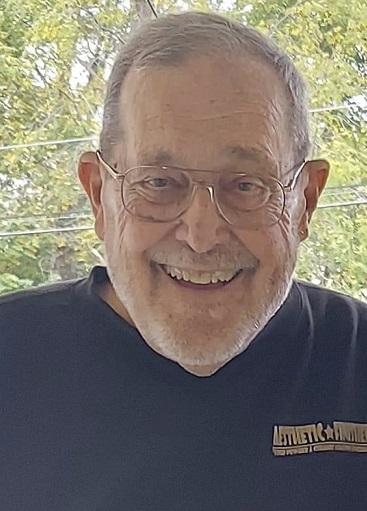 December 15, 1942 - November 12, 2022
Visitation
Thursday, November 17th from 5-8 p.m. at Westerville Free Will Baptist Church
Service
Friday, November 18th 11 a.m. at Westerville Free Will Baptist Church
Burial
Blendon Central Cemetery
Richard (Bud,Pockets) Carter, age 79, of Westerville passed away November 12th 2022. He is preceded in death by his parents George and Beatrice Carter, and his grandson Cody Carter.

He is survived by his wife of 56 years, Juanita Carter; his children, Tony (Julie) Carter and Teresa Carter (Brad Smith); his grandchildren, Jessica Voll, Tytus Miller (Cori Price), Brittany Morris (Nathan Morton), Taylor Carter (CJ Sullivan) and Austin (Kristin) Carter; 11 great-grandchildren.

Bud attended the Westerville Free Will Baptist Church. He was retired from Black Clawson, and then also Fisher Cast Steel. Bud was a lifelong car guy. He was a member of Goodguys and the NSRA. He was an avid sports enthusiast.

Visiting hours will be November 17th from 5-8 pm at the Westerville Free Will Baptist Church, 390 E College Avenue, Westerville Ohio 43081 where funeral service will be held Friday November 18th at 11 a.m., Pastor Mike Sammons, officiating, followed by a graveside service at the Blendon Central Cemetery, 6330 Hempstead Road, Westerville Ohio 43081.
Condolences
Kelly Walczak - Nov 21, 2022
Teresa and family So sorry to hear about the loss of your father, our thoughts and prayers are with you and your family during this very difficult time, we will keep you in our thoughts and prayers 🙏🏻
Chuck Smith - Nov 16, 2022
I will always remember Bud as a great guy and friend that I met many years ago, and was honored to call friend. It was always a pleasure to see him and visit with him at car shows. Recently it was great seeing him every Thursday night at Der Dutchman. Next car show season will not be the same without seeing Bud at the shows. Rest In Peace my friend.
Dan and Laura Fry - Nov 16, 2022
We will miss Bud and his smile. Whenever he seen us at a car show he always had a smile and car stories to share with us. He was always happy around his family and cars. God Bless You Pockets And Hod Bless All Of You. You Will Be Very Missed
Allison P - Nov 16, 2022
Carter family we send you our deepest sympathies and prayers for comfort during this sorrowful time. Bud was a character and I loves his car knowledge and quick whit when we'd see him at the car shows.
Bink and Kathy Lowther - Nov 15, 2022
We will always have the fondest memories of the Hot Rod travels with Bud and all the fun we had. We will also miss the vast wealth of knowledge of Bud about people, places and cars he had tucked away in cornersof his mind. The endless stories we shared from the years we were privileged to know Bud. We will always have our memories as friends.
Mark and Jessica Musetti - Nov 15, 2022
Bud you will be deeply missed. A joyous reunion awaits us in heaven one day. We are sending prayers of love and comfort to the family. Mark and Jessica Musetti
Julie - Nov 15, 2022
I was privileged to call you my Father in law. I love you so much! We are going to miss you like crazy! Don't worry about your son, Tony, I will always watch over him and love him. I will also help watch over Meme, Teresa, and all the kids. Until we meet again.....XOX