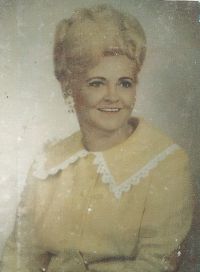 November 5, 1922 - September 19, 2013
Visitation
6-8 p.m. Wednesday September 25, 2013
Service
1:00 p.m. Friday September 27, 2013
HELBER
Regina L. (Jean) Helber, age 90 of Delaware, passed away Thursday September 19, 2013 at home. Retired from Mt. Carmel Hospital West. Preceded in death by husband, Lee Richard Helber; son, Wallace Gene Helber; grandsons, Christ F. Swint and Cody Samuel Sparks. Sisters; Dorothy Amon, Edna Grace, Lorraine Groom, Gladys Joyce and Kathleen Johnson. brothers, James Taylor and Paul Taylor. Survived by daughters; Sandy L. Gall of Delaware; Peggy J. (Elbert) Reece of Sunbury and Nancy (Dennis) Au of Washington. 12 grandchildren, 30 great grandchildren and 11 great great grandchildren. sister, Margaret Benjamin of Columbus. Numerous nieces and nephews. Friends may call at the MORELAND FUNERAL HOME 55 East Schrock Road Westerville, Wednesday 6-8 p.m., Thursday 2-4 & 6-8 p.m. where service will be held 1:00 p.m. Friday September 27, 2013 with visitation from 11:00 a.m. until time of service.Interment Blendon Central Cemetery.
Condolences
Sandy & Andy Stoy - Sep 22, 2013
So sorry Nancy and Jodi, and the entire family. Pleas accept our condolences!
Richard Lee Amon - Sep 22, 2013
Sorry I can not be there, I hold each of you in my heart and keep you all in Prayer, May God comfort you all in this time of grief and loss. Love and Prayers to all…I'm with you in Spirit. Ricky