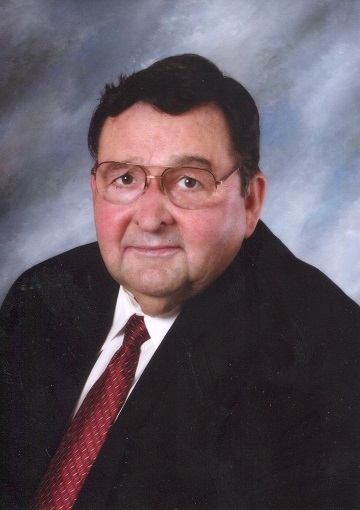 May 13, 1937 - July 15, 2017
Visitation
Tuesday, July 18th from 6-8 p.m.
Service
Wednesday, July 19th at 2:00 p.m. at Moreland Funeral Home
Burial
Blendon Central Cemetery
GOLLIHUGH
Ray F. Gollihugh, age 80, of Westerville, OH, passed away July 15, 2017 at St. Ann's Hospital surrounded by his loving family. Retired from Metler Toledo Corporation as Treasurer after 39 years. Graduate of George Washington University with a BS in Finance and Law. U.S. Air Force veteran. Member of Linworth Baptist Church, Financial Executives, various investment groups, Junior Achievement advisor and chairman of multiple church communities. Survived by his wife of 59 years, Faye; children, Gary (Joyce) Gollihugh of Sunbury, Karen (David) Hill of Columbus and Debbie Gollihugh of Rock Island, Texas; granchildren, Hannah and Garrett Gollihugh; sister, Phyllis Githens; brothers, Roger (Lois) and Vernon (Susan) Gollihugh; aunt, Faye Hall; several nieces and nephews. Preceded in death by his brother, James Gollihugh. Friends may call at the MORELAND FUNERL HOME, 55 E. Schrock Road, Westerville, Tuesday 6-8 p.m. where service will be held Wednesday at 2 p.m., Pastor George Hattenfield, officiating. Interment at Blendon Central Cemetery.
Condolences
Peggy Honeycutt - Jul 27, 2017
We are so sorry to hear of Ray's passing. I always enjoyed talking to you when you were walking your little dog to the pier. We also will miss Ray's sound financial knowledge at the board meetings. Keeping you in thought and prayer.
Peggy and Jay, River House #1
Roderick Peeks - Jul 19, 2017
Deeply sadden about the passing of Ray Gollihugh. Ray was one of my first managers at Mettler Toledo. We talked a lot about family and the Lord. I will be praying the Lord's strength for his dear wife and family. What a godly man!
David and Betty Forrest - Jul 18, 2017
To Gary & Joyce and All the Families,
We send our deepest Sympathy and Pray that the God whom we serve, will Comfort, Love, and give you Strength thru this difficult time of loss and in the days ahead.
With Much Love & Prayers,
David & Betty Forrest
Sheila & Chris Cullins
Brian & Kandace Forrest & Children
Thelma Winks - Jul 17, 2017
Dear Faye and family,
I just wanted to let you know that you and your family have my deepest sympathy in the loss of Ray. He was a very special person and a wonderful boss. He made working at Toledo Scale/Mettler-Toledo a place where you loved going to work every day. He will be missed by everyone who knew him. If you need anything, please give me a call (614)776-1345.
With deepest sympathy,
Thelma Winks