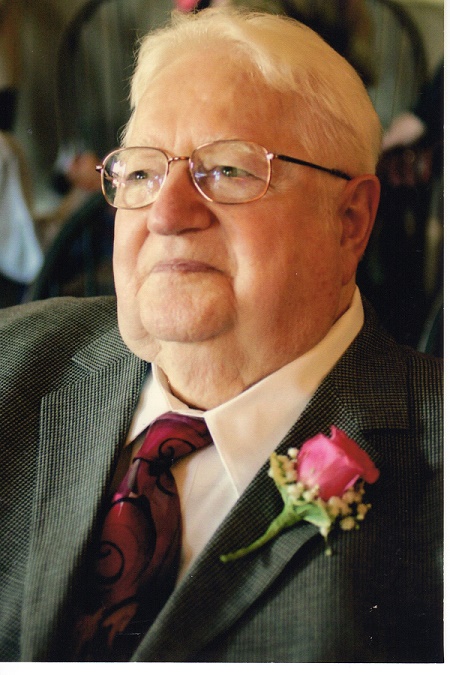 August 12, 1928 - May 26, 2016
Visitation
Thursday, June 2nd from 6-8 p.m. at Moreland Funeral Home
Service
Saturday, June 4th at 10:00 a.m. at St. Joan of Arc
PASTORE
Ralph Louis Pastore Jr. age 87 of Bronx, New York died on Thursday, May 26, 2016. He resided in Lewis Center, Ohio for over twelve years. He served in the US Navy as an Electricians Mate 3rd Class aboard the USS Howard W. Gilmore from 1946 1948. He was a retired Electrical Engineer from American Electric Power. He was a member of the Italian Club and a parishioner of St. Joan of Arc. He was a loving father of seven children, a grandfather of ten, and a great grandfather of one. He was preceded in death by his loving wife, Marie of 53 years. He is survived by his children, Ralph Jr., Donna Marie, Theresa, Joseph (AnnMarie), Elizabeth (David), Michael (Anne), and Felicia (Bill); grandchildren, Jesse (Sherry), Jamie (Kira), Zachary, Jonathan, Melissa, Jenna, Jacob, Allison, Abigail, & William; great granddaughter, Chloe. He is also survived by his older brothers, John and Stanley. A viewing will be held at MORELAND FUNERAL HOME 55 East Schrock Road, Westerville on Thursday, June 2nd from 6:00 to 8:00PM. The service will be held at St. Joan of Arc 10700 Liberty Street, Powell on Saturday, June 4th at 10:00 AM followed by a private family burial. In lieu of flowers, donations can be made to Wounded Warriors Family Support at www.wwfs.org.
Condolences
Michelle Madison - Jun 3, 2016
I took care of Ralph as his home health nurse & have fond memories of our visits. My thoughts & prayers are with your family during this difficult time.
Bonnie - May 31, 2016
Mike, there are no words to express how sad I was to hear of your loss. You, Anne and Jacob will continue to be in my prayers.
Love, in Christ,
Bonnie
Julie Virgalitte - May 31, 2016
I'm so sorry to hear about Mr. Pastore's passing. Your family is in my prayers.
Julie Simpmson - May 31, 2016
I know there are no words that take away the pain – only our Lord can do that and He will over time. Our Lord is an incredible Lord and he has made a place for us to be with Him and I know tat Mr. Pastore is now in the arms of Jesus and is feeling love like never before. I pray for peace for your family. May the spirit guide you through this very difficult time.
In Christ's love,
Julie
Barbara (Fornario )Noyes - May 29, 2016
So sorry to hear of your loss. I have many happy childhood memories of visiting with your family and I remember a big party just before you moved to Ohio. Your parents were wonderful.
Warmly (your second cousin)
Barbara