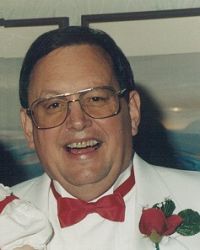 October 22, 2010
Visitation
Wednesday 4-5:30 p.m. Ascension Lutheran Church
Service
Wednesdat 5:30 p.m. Ascension Lutheran Church
WILLER
Paul Willer went to be with his Lord on October 22, 2010 at the age of 71, surrounded by the family he loved and who loved him. He is survived by his wife Harriette J. sons, Glenn and wife Kathy, Scott and fiancee, Anna and daughter, Kelly Green and grandchildren, Molly, Ethan, Erica, Alex, Abbey, Jimmy and Monde. Brothers, Rick (Linda) Willer and Wayne (Trisha) Willer and sister, Mary Lou (Art) Heinrich and many nieces and nephews. Paul owned his own insurance agency for over 32 years. He was a proud member of Ascension Lutheran, Beechcroft Lions Club, Westerville C of C and the Buckeye and Rebounders Club. Visitation will be at Ascension Lutheran Church, 1479 Morse Road Columbus Wednesday October 27th from 4-5:30 p.m. followed by a celebration of his life at 5:30 p.m. Following the service there will be a tailgate on the church lawn, so wear your O.S.U. colors. Arrangements by the MORELAND FUNERAL HOME Westerville. In lieu of flowers, Paul would prefer donations be made to Terry Theis Scholarship Fund, c/o Tom Kalinosky, Beechcroft Lions, 412 Glenside Ave. Powell, OH 43065.
Condolences
Helmut Welker - Oct 30, 2010
Harriet, Carol and I are sad to hear about Paul. Our thoughts and prayers are with you and the rest of the family.
Helmut
Tom Andrews - Oct 26, 2010
Buckeye Nation and all of us lossed a good friend with Paul's passing. And the insurance industry lossed a true professional who put his clients first before himself. He will be truly missed by many. Even my kids were saddened by the news. Our deepest condolences.
Tom, Pam, Devon, and Ian Andrews
Joyce Shannon Dossey - Oct 25, 2010
I am so very sorry to learn of Paul's passing-went to Lutheran Church and school with him and we lived in the same neighborhood since 1952 in North Miami-I never heard Paul say an unkind word about anyone and he always had a smile for everyone-He will be missed by his classmates. I offer my sincere condolences to his family during this time.
Belleview Wachovia Bank - Oct 25, 2010
Our thoughts and prayers are with you and your family.