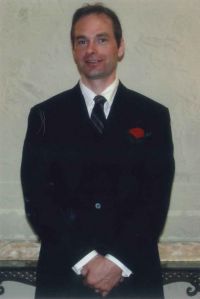 July 14, 1969 - November 5, 2013
Visitation
Sunday, November 10th from 3-6 p.m.
Service
Sunday, November 10th at 6:00 p.m.
KILIAN
Paul Robert Kilian, age 44, of Westerville, OH, went home with the Lord November 5, 2013. Born July 14, 1969 in Columbus Ohio. Paul was a licensed massage therapist practicing in Westerville Ohio. Paul was a man who dedicated his life to helping others with a selflessness that is rarely seen. For those who loved him, he will always be remembered for his determination, his pursuit of knowledge, loyalty, kindness and his fun loving spirit. Preceded in death by his father, Paul J. Kilian; grandparents, Robert A. and Ruth S. Humphrey and Joseph and Mary Kilian; step sister, Theresa Fister. Survived by mother and step father, Anita and Vincent Fister; sister, Susan (Richard) Breeden; step sisters, Renee (Randell) Lee, Nancy (Richard) Gonzales; step brother, John P. (Kim) Fister; aunts, Christine Baker and Patricia (Robert) Frye; uncle, Joseph (Edith) Humphrey; nieces, Chloe Breeden, Lydia Fister and Abbeyanne Gonzales; nephews, Kai Breeden, Jonathan Fister, Nick (Ashlynne), Corey and Cameron Lee, Gabriel and Julian Gonzales and many cousins. Friends may visit Sunday from 3-6 p.m. at the MORELAND FUNERAL HOME 55 East Schrock Road, Westerville where a service will follow at 6:00 p.m.. Pastor Eric Holley officiating. Private interment will be held at Blendon Central Cemetery. Paul will be missed by family and friends who loved him.
Condolences
Chris Meeks - May 8, 2014
It is with great sadness that I just learned of Paul's death. I was a long time massage patient and know he will be missed. I moved to Las Vegas 2 years ago and when I come to Columbus I always call for an appointment to see him. May his memory be a blessing.
I am the lady who made the king size red, white and black quilt called "Red Hot Mamma". I hope your family finds comfort in knowing I enjoyed making it for him and knowing he actually used it. With many blessings. Chris and Floyd Meeks
Melissa Singer-Reed - Nov 12, 2013
Anita, my thoughts and prayers are with you!
Love, Melissa
Marilyn Kreidenweis - Nov 12, 2013
Hello Anita,
I am so very sorry to hear of the loss of your son. You and your family are in my sincere thoughts and prayers during this most difficult time. Keep the faith… 🙂
Gina Borgatti - Nov 12, 2013
Anita I'm so sorry for your loss. You are in my thoughts and prayers.
Randa Mefford - Nov 12, 2013
My heartfelt condolences go out to you and all in your family for the loss of your son. I hope all of the wonderful memories you have will sustain you during this very difficult time.
Kindra Montgomery - Nov 11, 2013
Anita, I am sorry for the loss of your dear son. My thoughts and prayers are with you and your family.
Lisa Mosley - Nov 11, 2013
Anita –
I am so sorry for your loss. You and your family are in my thoughts and prayers.
Cassie Snedecor - Nov 10, 2013
My condolences to his family & friends. We will all miss Paul so much. He was such a kind-hearted sweet man.! He worked on me & my husband for many years. He was always trying new ways to fix my back. I looked forward to my weekly visits because of Paul's nurturing way with making sure you were getting better & of course his healing hands. He truly was a very gifted masseuse & a very special person. I will never forget him & his comforting ways! May he rest in peace & God Give you comfort. Sincerely, Cassie Snedecor
Laura Pugh - Nov 7, 2013
I went to school with Paul, he was an awesome person who could put a smile on anyone's face. I'm truly saddened to hear of his passing. He will be missed by so many people. I'm glad I got to see him recently at our last reunion. I will always remember him as a fun loving all around special person who touched so many lives.