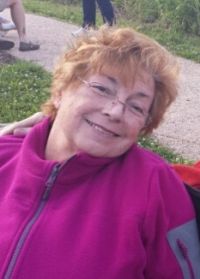 April 1, 1945 - November 4, 2014
Visitation
Friday, November 7th 6-8 p.m., Moreland Funeral Home
Service
Saturday, November 8th at 10:30 a.m. St. Paul the Apostle Catholic Church
McCANN
Patricia Ann McCann, age 69, of Westerville, OH. November 4, 2014. Retired from Franklin University as a Math Professor. Survived by her husband of 47 years, Doug; children, Matthew D. (Jennie) McCann and Mary Kay McCann (Mason Cobler); grandchildren, Lucy McCann, Timothy, Kaylin and Cameron Ansley, and Mason Cobler 2; sisters, Mary Kay Cameron and Carolyn Cameron (Paul) Bidwell. Friends may call at the MORELAND FUNERAL HOME, 55 E. Schrock Road, Westerville, Friday from 6-8 p.m.. Memorial Mass will be held at St. Paul the Apostle Catholic Church, 313 N. State Street, Westerville, Saturday at 10:30 a.m., Rev. Fr. David E. Gwinner, celebrant. Private interment Resurrection Cemetery.
Condolences
Sherri Lowe - Dec 16, 2014
Dear family,
I just learned of Pat;s passing and my heart is heavy as I will miss her; however, I heart also rejoices that she is in the presence of our Lord and Savior Jesus Christ. I was one of Pat's students for statistics and later became a colleague Franklin University. I respected and admired Pat. She always had a smile on her face and she genuinely cared about people. I am so sorry that I did not know of the funeral to pay my final respects. My prayer during this holiday season is that you experience peace beyond understanding and are comforted during this special time as you miss and reflect upon Pat, your wife, mother, mother-in-law, sister, friend and companion. She was very special and touched my life.
Rich Flanagan - Nov 7, 2014
A wonderful teacher and an even better person.
Thank you for helping so many students.
Ronnie & Georgia Catipon - Nov 7, 2014
Our condolence to Doug and the entire family. We have known Pat all these years (25+) we have been teaching at Franklin. She was a lovable person and dedicated teacher. May her soul rest in peace.
Angela Granata - Nov 6, 2014
I am sad to hear of Pat's passing. She is now in the hands of God in Heaven. Pat was a kind soul who loved her students. I too was a former student and employee of Franklin University and greatly admired her knowledge of math and her love of teaching. I think of this quote of from Horace Mann when I think of Pat:
"Let us not be content to wait and see what will happen, but give us the determination to make the right things happen."
Rest in peace Pat. You followed the teaching of Christ and now, you are in paradise. You will be miss.
George Redmond - Nov 6, 2014
Dear McCann Family,
Please accept my condolences for your loss. I worked with Pat for ten years at Franklin. She was a gem and certainly one of a kind and I am sure that she is smiling down on us with that ever present twinkle in her.
George
Ron Hartung - Nov 6, 2014
Anne and I are deeply sorry for your loss. Pat was a wonderful friend and a great colleague. Our computer science and math group would have been so much less without her. We will remember her always. Our thoughts are with you all in this time of grief and loss.
Yolonda "Yolo" Simmons - Nov 6, 2014
My thoughts and prayers go out to the McCann family. I worked as Pat's assistant for over 7 years. I think it took her and Jane that long to get me through Math 215. She never gave up on me even when I did and I loved her for that. I was her "Yolo" as she liked to call me. Pat you will be truly missed.
Wendy - Nov 6, 2014
Dear McCann Family,
I am sorry for your loss, and I will pray for God to comfort you during this time of mourning.
Pat hired me to teach Math 215 along with Jane years ago. She was patient with me and answered every email and phone call. She always had my back and maintained the high standards of Franklin. She also wanted to get to know me personally aside from being an adjunct. I respected her tremendously and will very much miss her now.
In Christ,
Wendy
Tom Richards - Nov 6, 2014
I'm so sorry to hear of Pat's passing. She was a wonderful person and will be missed.
Brenda Seidel - Nov 5, 2014
My condolences to Pat's family. I have worked with Pat at Franklin for 25 years also teaching mathematics. Pat was always willing to help out with any situation or question that arose. She was a thoughtful person and paid attention to detail. She was a mentor to me and I will miss her. Please know that my thoughts and prayers are with you during this sad time.
Suzan Waller - Nov 5, 2014
I am sad to hear of Pat's passing though her final months no doubt brought great challenges. I consider having known her and worked with her to be a blessing in my life. I know in my heart that she loved and was loved by family and many friends throughout her life. Thousands of students benefited from her knowledge and spirit as an educator. She will be sorely missed.