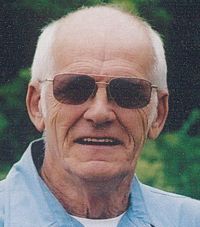 July 15, 1937 - February 6, 2013
Visitation
Sunday, February 10, 2013 from 5-8 p.m.
Service
Monday, February 11, 2013 11 A.M. Moreland Funeral Home
SHIVELEY
Norris E. "Gene" Shiveley, age 75, of Westerville, Ohio died February 6, 2013 at home. He was born July 15, 1937 in Stout, Ohio. Preceded in death by his parents, William and Katie Shiveley; sisters, Wilma Stevenson and Helen Shupert; brothers, Robert and David Shiveley. He is survived by his wife, JoeAnne; daughters, Mary Anne (Denny) Hamilton and Joyce Anne (Dennis) Weeks; grandchildren, Jason (Kacey) Hamilton, Jennifer (Mitch) Merth, Jack and Joe Weeks; great-grandchildren, Ashlyn, Mallory, Jaelyn, Alex, Lucas and Kellyn; brother, Carl and his wife Billie Shiveley of Dayton, Ohio; numerous nieces, nephews, cousins, brothers-in-law and sisters-in-law. Gene retired from The Kroger Company in 1998 with 45 years of service. Gene married JoeAnne Koenig 54 years ago on December 28, 1958 at Our Lady of Lourdes Church in Otway, Ohio. We would like to give Mt. Carmel Hospice a special THANKS, Gene said "You are the kindest and most wonderful people". Thank you for all your help and support. Friends and family may call at the MORELAND FUNERAL HOME, 55 E. Schrock Road, Westerville, Sunday 5-8 p.m. where service will be held Monday at 11 a.m., Rev. Tom Barford, officiating. Interment to follow at Blendon Central Cemetery.
Condolences
Nancy Gilbert - Feb 11, 2013
My deepest condolences to the whole Shiveley family.
Darlene Healey - Feb 10, 2013
Joyce and Family, My deepest condolences for your loss.
Mark and Tammy Crouch - Feb 10, 2013
I'm going to miss Uncle UHHUH (as I knew him). I am so glad I got to spend some time with Aunt Toppy and Uncle UHHUH about a month ago. It was a good day. He was in good spirts and was smiling and laughing. He is going to be missed but never forgotten.
Tammy
Worley&Deanie - Feb 8, 2013
my best friend Gene I wll miss him very much a sad day for me and my Wife Deanie God Bless Gene and Toppy and all the family.