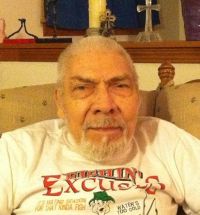 November 26, 1935 - March 4, 2014
Visitation
Tuesday, March 11th from 11 a.m.-1:30 p.m.
Service
Tuesday, March 11th at 1:30 p.m.. Moreland Funeral Home
VAN WINKLE
Norman L. Van Winkle, age 78, of Millersburg, OH, formerly of Westerville, March 4, 2014. Formerly employed by Kinnear Door Co. and retired from The Ohio State University. U.S. Army veteran. An avid outdoorsman who enjoyed hunting and fishing. Survived by his sons, Daniel Van Winkle and Mark (Dawn) Van Winkle of Centerburg; grandchildren, Brandon and Kala, Tonya, Mekenzie and Gavin; sisters, Dee Klamfoth of Westerville and Cora Headings of OK; former wife, Imagene Mills of Columbus; friend Joe (Jascie Haskins) Phillips of Big Prairie, OH; nieces and nephews. Friends may call at the MORELAND FUNERAL HOME, 55 E. Schrock Road, Westerville, Tuesday, March 11, 2014 from 11 a.m.-1:30 p.m. where setvice will be held Tuesday at 1:30 p.m., Pastor Bud Leskovac, officiating. Interment Northlawn Memory Gardens.
Condolences
Rex & Rose Rumley - Mar 9, 2014
My wife and I have camped near Norm for about 17 years. Over the years we have grown to know and love Norm. He will be sadly missed. Our condolences to his family as I know they will also miss him. Norm was a good man. It was a pleasure to know him.
Rex & Rose
Wooster-Wayne D.A.R. - Mar 8, 2014
To the Family of Norman VanWinkle: We noted in the obituary that Norman served in the U.S. Army. We want you to know that we appreciate his service to our country. Our most heartfelt sympathy goes out to you for your loss. Sincerely, The Daughters of the American Revolution, Wooster-Wayne Chapter, NSDAR