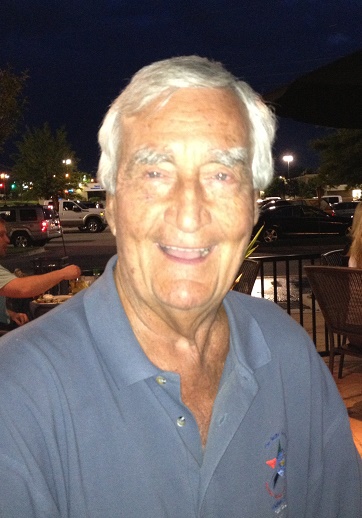 July 28, 1931 - February 13, 2016
JONES
Morris A. "Mo" Jones, age 84, of Westerville, OH passed away February 13, 2016 at St. Ann's Hospital. Born in Chicago, IL and graduated from Thorton High School in Harvey, IL, attended Vanderbilt University, transferred to University of Illinois and graduated in 1953 with a degree in Mechanical Engineering. Member of ATO Fraternity. Employed by the steel mills in Chicago as an engineer until 1961. Joined Borg Warner Corporation Pump Division as a sales engineer, transferred to Cleveland, Ohio as district manager and to Columbus, Ohio as district manager and retired in 1993. Moved to Westerville in 1986, joined Scioto Country Club for men's tennis and won State title in Senior Olympics doubles tennis and went to the Nationals twice. Survived and very loved by daughter, Linda (John) Enloe; brother, Charlton (Rebecca) Jones; former wife, Carolyn Jones. Preceded in death by his son, Stephen. Private family service. Condolences at morelandfuneralhome.com.
Condolences
Susan, Dean & Emily Wagner - Feb 27, 2016
Dear Linda
So sorry to hear about Mo's passing. We live directly behind your dad. He was a wonderful neighbor. He called us on that Wednesday to let us know he was at Riverside and he was hoping to come home that day. We had to be at Riverside that day and Dean tried to see him but couldn't find him.
A memory I have of your father when we first moved in over 22 years ago your dad was at war with the squirrels on his deck. Well the war ended a couple of years ago and your dad gphad the squirrels eating out of his hands. He loved feeding the birds too. If there is anything we can do we are here for you.
Susan, Dean and Emily Wagner
ed pagnanelli - Feb 18, 2016
I have played with and against Mo on the tennis court at both Olympic and Champions. He was quite an imposing figure when he stood at the net. He would always ask me about teaching and people that he knew in Hilliard. I will always remember that deep voice and hearty laugh. We last spoke about three weeks ago when he stopped by Olympic to say hello to everyone. He will be missed by many of us both on and off the court.
Cal - Feb 18, 2016
I'm terribly saddened to learn of Mo's death. I knew he was experiencing very worrisome health problems but felt that his lifelong good health would once again take over.
I was pleased to have Mo as a friend and always enjoyed being his partner. His presence among our group will be greatly missed.
Dan Owen - Feb 16, 2016
I have been Mo's barber for twenty plus years.Mo always made friends where ever he would go. He was a good man,and he will be missed by all.
CArol Hershey Durell - Feb 16, 2016
So shocked and saddened to hear that one of my tennis buddies had passed away. We both played with the Champions tennis group and enjoyed a carefree, well cared for tennis club. He was a gracious and upbeat addition to our games. My condolences to his family.
Kate Hnter - Feb 15, 2016
Mo was a friendly face I got to know as I walked my dog Summer through McDot Subdivision. He was always smiling and had a story to tell. Summer, whom he nicknamed Fang, always carried on and whined and begged for his attention which he gladly gave. He asked about my children regularly, how they were doing in school and what sports they were involved in. As spring arrives and the weather warms, his presence on his front porch and his smiling face will be missed by me, my children and Summer.
Cathy & John Tucker - Feb 15, 2016
We are so sorry for your loss. We knew Mo from champions tennis club and we will certainly miss him on the court. You are in our thoughts and prayers.
lynn hickey - Feb 15, 2016
Dear Linda, I don't know if you remember me (Lynn Morgan)but I remember how beautiful you were at your wedding that I attended with your Dad.I was so very sorry to see that your Dad had passed away. He was a one of a kind gentleman. I have so many very happy memories of fun times with him. My best to you. Lynn
Champions Tennis Club - Feb 15, 2016
Mo, you will be missed. Your humor and wit was always so special. We hope to see you in Heaven someday. You were fun to be around and we all enjoyed your keen perception. God Bless You and your family.
Kris Condon - Feb 14, 2016
Dear Linda: We have never met, but I wanted to send a separate condolence to tell you how special a friend your dad was to our family. As you have seen from my dad's posting, Uncle Mo and my dad went all the way back to grade school together in Flossmoor. But Uncle Mo has always held a special place in my heart because if it were not for him, my parents would not have found each other!
About 1958-1959 or so, Uncle Mo was dating my mom. They had been introduced by your grandmother, who shopped at the Rau Store in Chicago Heights where my mom worked on her summers off from college. They doubled with my dad and a woman named Winifred Bannon, and they went to a restaurant and nightclub in Frankfort called Valley View. Not long after that, Uncle Mo and my mom went their separate ways, as did my dad and Winifred Bannon. Your parents must have been married not long after that, and my parents were as well. So I always had told Uncle Mo that I wouldn't be here if it weren't for his introducing my parents.
I have experienced the pain of losing a parent, and I am so sorry for your loss. He was a wonderful person, and hearing this news made me hug my dad a little tighter this evening. You have my heartfelt condolences.
With sympathy–Kris Condon, Homewood, IL
Dick Condon & Daughter Kris - Feb 14, 2016
Mo was our oldest and dearest family friend. From Boy Scouts to lifeguarding at Flossmoor Country Club and our days at Thornton Township High School, we didn't have to see each other every day to have a friendship that picked up where it left off. Mo was an absolute original and a friend for life. The sun will shine a little less brightly tomorrow for having lost such a valued friend. We will think of him fondly and often and are grateful our paths crossed.
Kerry Hillman - Feb 14, 2016
Sending love, prayers and good thoughts to my favorite patient's family. Everyday that I went to visit Morris, I made sure he was the first patient I saw because I knew after seeing him and that big smile, there was no way I could have a bad day. He always made me smile. I will miss pulling into his driveway this Spring, seeing him waiting for me on the front porch and him yelling out, "Hey kiddo!"
Linda, please let me know if you need anything. Thinking of you