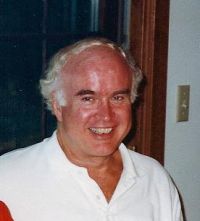 October 16, 2009
Visitation
Monday, October 19th from 6-8 p.m.
Service
Tuesday at 1:00 p.m.
PARKER
Michael L. Parker, age 70, of Westerville, OH. October 16, 2009 at home. Retired from Ohio Bureau of Worker's Compensation. A devoted family man whose hobbies were golf, tennis and playing guitar. Survived by his wife of 50 years, Pat; daughters, Kristina Perez and Michelle (Mike) Sweeney, all of Westerville; grandchildren, Christopher, Ashley and Amanda; mother, Mildred Parker of Kenton, OH; sisters, Alice (Lou) Downey of Kenton and Jan Farkasdi of Findlay, OH; several nieces and nephews. Friends may call at the MORELAND FUNERAL HOME, 55 E. Schrock Road, Westerville, Monday 6-8 p.m. where service will be held Tuesday at 1 p.m.. Interment Maplewood Cemetery, New Albany, OH.