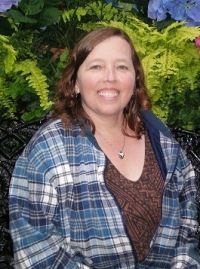 December 24, 1969 - November 6, 2013
Visitation
Friday, November 8th from 4-8 p.m.
Service
Saturday, November 9th at 11 a.m. Genoa Baptist Church
CHANDLER
Melissa G. (Nance) Chandler – Departed this life November 5th, 2013 after a very private and lifelong battle with Beta-Thalassemia Major, a rare blood disorder. Having far surpassed medicine's predictions, Melissa's quiet strength and strong will carried her through 43 blessed years of a life never defined by her condition. Always seeking to glorify her savior, Jesus Christ, Melissa enjoyed singing, scrapbooking, cooking lavish meals for friends and family, time at the beach and playing with her beloved nieces. Remembered for her bright eyes and wide, infectious smile, Melissa will be sorely missed by many. Preceded in death by father, Clifford J. Nance, surrogate daughter Justina Williams, and two unborn nieces. Survived by husband Robert D. Chandler, mother Cathy Nance, brother Michael J.Nance, Sister Susan (Chad) Blake, very precious nieces Abygayl and Rhylee Blake, and a whole host of dear friends and extended family. Friends may call at the MORELAND FUNERAL HOME 55 East Schrock Road Westerville, 4-8 p.m. Friday. Funeral service will be held 11:00 a.m. Saturday November 9, 2013 at Genoa Baptist Church, 7562 Lewis Center Road Westerville, OH. with visitation one hour prior to service. Pastors Chris Williams, Frank Carl and Roger Tickle officiating. Interment Pioneer Cemetery, Westerville. In lieu of flowers, the family requests donations be made in Melissa's name to Nationwide Children's Hospital Hematology.
Condolences
rose dexter - Nov 9, 2013
you all are in my thoughts, and prayers, melissa always made me feel welcomed and kept after me to come vist williams rd church, after we met at fishnet, it was meant for us to meet, she always had that great smile and always said are you singing, her smile, actions, and love for people will always remain in our hearts, she will never be forgotten, love and prayers to rob and melissa's family.
Cindy Schubert - Nov 8, 2013
Remembering your sweet smile, will miss you on this earth, until we see you again, many hugs and Prayers to the family. May God give the ones left behind strength and comfort. No more pain or suffering, we can only imagine!
Love and Prayers,
The Saunier Family - Nov 8, 2013
Rob…Our deepest sympathy in the loss of your beloved jewel. Melissa was the beauty of Christ inside and out. SHE NEEDED NO ADORNMENT. Her smile said it all…she knew her Lord.
Peace be with you and the entire family
Jeanie Castle - Nov 7, 2013
My heart is breaking for you. In all the years Her smile never waivered and her spirit never sad. If you didn't know she had a medical problem already – you would never know to talk to her. Remember all the fun times on the 'courting couch' Friday nights, Mindy making bread sticks and you all teasing, joking laughing and all the good time going with the band. God gave you a beautiful gift when he gave you Melissa. God made a perfect match. Melissa had many years of joy and gladness with you. You were a perfect faithful husband to her. She is now with our Father walking in perfection, no pain, a perfect body and praising the Lord. God will give you the strength you need to carry on your ministries and keep the joy you shared in your heart. I am here is you need me call or stop by. God is able to comfort you…I love you…Mama Stool
NCH Transfusion Service - Nov 7, 2013
On behalf of the entire Transfusion Service at Nationwide Children's Hospital, our thoughts and prayers go out to Melissa's family. Although we did not provide direct care for Melissa, she is a well-known patient to our department. For the last 15 years, our staff has washed red cells for her Friday evening transfusions. We were truly saddened to hear of her passing.
With sympathy,
The NCH Transfusion Service staff
Sheila Stewart - Nov 7, 2013
Rob I am so sorry for your loss. It was great to see you and her last month while in Ohio. Even though she was so sick then she held her head high and was fighting so hard. She loved you so very much. Sheila
Angie Darst Williams - Nov 6, 2013
As I read the name on this, I am very shocked….When my family went to Williams Rd church Melissa and I stood side by side in the choir….I remember Melissa as a tiny young lady with a big laugh and a big smile….I don't ever remember Melissa being sad….She always had a smile on her face….
Mrs. Nance and Family…..I am so sorry for your loss….I'm sure she is the light of all your lives…
To Melissa's husband….I never had the pleasure to meet you but you married one heck of a young lady….Beautiful in so many ways….I remember Melissa with such fondness….I am sorry for your loss….
May God comfort you all……….Angie
Cindy - Nov 6, 2013
Rob,George and I are here for you.
We are very sorry that you have to go thruthis…but know Melissa is dancing on the streets of gold and no more disease in her body!!!
Jesus is coming back very soon …and you will be reunited with Melissa again!!!