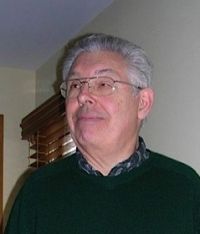 January 11, 1944 - January 13, 2014
Service
Monday, January 20, 2014, 2 p.m. at Arlington Memorial Gardens
FARLEY
Max Forrester Farley, age 70, of Westerville, Ohio. January 13, 2014. Retired from the Life Sciences Field. Graduated from Marietta High School, Marietta, Ohio. He earned his MBA in Electrical Engineering from the University of Cincinnati. During his high school years he worked as a Disc Jockey (WMOA), and with friends, ran a Radio Station (WCFS) from his basement. Max was an active Amateur Radio Operator (KC8GT). He did volunteer work in maintaining the audio equipment for the Cincinnati Speech & Hearing Center and his church, and maintained an active role in Rotary International. Max loved music and tinkering. He played the organ and built two of them from "scratch". After a head-on collision (1991), he was asked by the Ohio State Patrol to advise prospective drivers the benefits of wearing a seatbelt. He was a gentle man with an easy laugh and a great sense of humor. Survived by his sweetheart of 45 years, Margaret; daughter, Tracey (David) Marshall and granddaughter, Abigail Marshall of Columbus, OH; sisters-in-law, Chris (Dick) Gross, Gerda McFarland of Cincinnati, OH; cousins, Ray (Helen) Farley, Yorktown, VA, Judy Pisanelli, Columbus, OH, Craig (Pam) Wall, Venice, FL, Jan (Alan) Hiatt, Cincinnati, OH. Max had numerous friends including Larry Chorpenning, Ed Dutton, Michael Wootton, Bob Badger and Bo Williams. He was preceded in death by his grandfather (former Mayor of Marietta, Ohio) and father, Max R. Farley (former Director of Southeast Ohio Transportation Div.). A graveside service will be held Monday, January 20, 2014, 2 p.m., at Arlington Memorial Gardens in Cincinnati, OH. Arrangements by MORELAND FUNERAL HOME, Westerville, OH. In lieu of flowers, please contribute to Alzheimer's Association of Central Ohio, 1379 Dublin Road, Columbus, OH 43219.
Condolences
Randy Andersen - Jan 20, 2014
Margaret. Kayleen and I want to express our sympathies at your loss. I was very surprised to hear of his passing and know you will really miss him. I really enjoyed working with Max at Forma and have many fond memories of various projects. It was also a privilege to be your neighbors on Sylvan Way. I remember some trips to Europe with Max for business that were enjoyable. We are praying that God will be with you during this challenging time. Randy & Kayleen
Debbie Page Kesselring - Jan 20, 2014
Margaret and family;
Sorry to hear of Max's passing.very many fond memories. Prayers to you and the family during this difficult time.
Condolences,
Bret and Debbie Page Kesselring
Jack and Shirley Page
James Decler - Jan 17, 2014
Dear Margaret, It has been many years since I worked at Forma Scientific in Marietta. I was there only briefly in 1977 and 1978 when my own father, Tom Decker, was diagnosed with cancer and Max was a young engineer working with my father and Ed Dutton. I know my dad thought very highly of Max and enjoyed working with him. I did as well. Max was very intelligent, very kind and great fun. I am sure it is a difficult time for you. Please accept my condolences for your loss.
Lou & Donna Urschel - Jan 17, 2014
Margaret, I am so sorry for your loss. I have wonderful, fun, funny and learning memories while working with Max over many years at Forma Scientific. We also shared enjoyment of Amateur Radio. I always knew your and Max's relationship was very special. Although life events moved us in different directions as the years past, I never forgot all of the good times. We wish you strength and comfort as you move through this difficult time. Lou & Donna Urschel Chapin S.C.
Margaret - Jan 16, 2014
Dear David: I loved him so much. Thought you would want to know.
Margaret
Kay Caltrider - Jan 16, 2014
Dear Margaret, I went to a P.E.O.Convention with you before you and Max moved. I am so sorry to hear of Max's passing. You and your family are in my prayers. Kay Caltrider, Marietta, Ohio