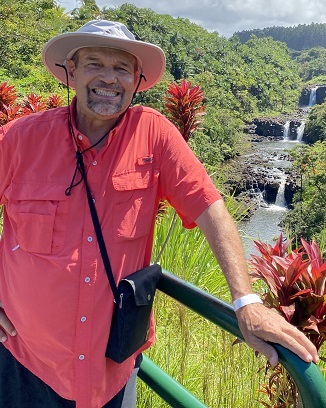 March 11, 1967 - July 18, 2022
Visitation
Friday, August 5th from 4-7 p.m. at at American Legion Post 171
Maurice Robert "Bob" Holman, 55, of Westerville, passed away on July 18, 2022.

Raised in Newark, Ohio in a family of five, he attended Muskingum University, where he played football and studied biology. Most importantly, it was here that he met his college sweetheart, Tawnya (née Bowdish), whom he married in 1991. Bob went on to become an educator, teaching in Westerville City Schools before eventually starting his own educational consulting company.

Bob was a passionate individual with an unending interest in the world around him. He loved to watch movies, go fishing, support the Buckeyes and the Browns, travel, play Dungeons and Dragons, cook and try new foods, read, solve puzzles, and enjoy Sunday tennis and board games with his family.

Bob lived a life full of gratitude and happiness, and appreciated the beauty of the everyday. He loved his wife and children and made it his lifes work to care for them.

He is survived by his wife and true love, Tawnya, his daughter, Rylee (Zac) Snively, daughters, Logan and Darby Holman, and son, Jakob Holman.

In addition to his wife and children, Bob is survived by his parents, Carl and Brenda (née Woolley) Holman, brother, Thomas and sister, Debra (Sarah) Holman, parents-in-law, Will and Sally (née Marron) Bowdish, sisters-in-law, Tracy Jados, Lisa Andrews, and Julie (Kurt) Kruger, and brother-in-law, Justin (Aubrey) Bowdish.

He will be remembered at a celebration of life on August 5, 2022 from 4pm to 7pm, at the American Legion Post 171, 393 E. College Avenue, Westerville, OH 43081

Bob was a kidney transplant recipient in 2010. His donor was his beautiful wife, Tawnya. In lieu of flowers, the family asks that you make a donation in Bob's honor to Donate Life.

Link to donation: https://give.classy.org/BobHolman

Help Tawnya through this unexpected loss: venmo - @tawnyaholman
Condolences
Peg Engelhardt - Jul 29, 2022
I was so sorry to hear about Bob's passing. He was a great guy. I loved teaching with him at Watkins Middle School. When ever I think of him a big grin comes to my face. He always made me laugh. May your happy memories of him help you through this sad time.
Bill and Luana Jados and Family - Jul 29, 2022
We are sorry to hear of the passing of this gentle soul. Sending prayers.
Reg & Marlene Pitt - Jul 28, 2022
It's difficult to express our grief over the sudden passing of our cousin. We all have our memories, as for me, I'll not forget the experience of him as my student teacher years ago. Bob was an intelligent, caring, fun-loving man. Our hearts go out to all the family. He will be sorely missed.
Gina - Jul 28, 2022
I am so sorry for your loss! May God give you the comfort that only He can. I know it's going to be hard. Many prayers sent your way. Gina
Mary Evelyn Canter - Jul 27, 2022
Tawna and family, prayers for all of you at this sad time.
Michele Gelzleichter - Jul 27, 2022
To Tawnya and all of Bob's family: Words fail me. I am so sorry. He was such a nice guy. I enjoyed teaching with both him and Tawnya. I consider myself fortunate that his life's journey touched mine. He will be missed by all who were as fortunate as me. 💔🙏❤️🙏
John and Ruth Coen - Jul 27, 2022
Brenda and Carl, so very sorry.
Thomas Holman - Jul 27, 2022
As an addendum to this obituary,I would like to identify the four surviving immediate family members from Newark. They are his parents Carl R and Brenda J (Woolley) Holman, brother Thomas R and sister Debra K Holman.
Leroy and Robin Bowdish - Jul 27, 2022
Tawnya and family, we are so very sorry for your loss. Bob was truly a special person with a passion for enjoying life with his family. We hope your memories will help you through this difficult time.
Mélisande & Jeff Heckman - Jul 27, 2022
Tawnya & family, We are so sorry to learn of Bob's passing. Such a sad time for your family. God bless & keep you all as you face the days ahead.
Kathleen Slaven - Jul 27, 2022
I know words can't take away the hurt you're feeling, but I want you to know you are in my thoughts and prayers. Sending you love and strength in this time of loss.
The Mangus family - Jul 27, 2022
Our sincerest condolences for you at this time. You have our deepest sympathy .Wishing you peace, comfort, courage, and lots of love at this time of sorrow. Our hearts goes out to you at this difficult time.
Tricia Kropog - Jul 27, 2022
Sending prayers and hugs to you all. XO
Molly Hauer - Jul 27, 2022
Tawnya and Family I am truly saddened to hear about your loss of Bob. Although I didn't know him, I have worked with Tawnya for many years and I know how much he meant to her. I will be keeping all of you in my prayers.