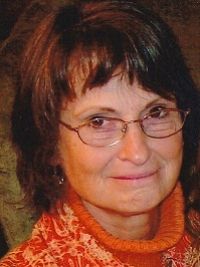 March 1, 2010
Visitation
Friday, March 5th from 2-4 and 6-8 p.m.
Service
Saturday, March 6th at 10 a.m. at St. Paul Catholic Church
TITUS
Maryann Titus, age 67, of Westerville, has moved through her adventure. March 1, 2010. Maryann was a teacher in Westerville City Schools for 25 years. In addition to the many young lives she touched and helped to mold, she is survived by her husband Jim Titus; her three children, Julie (Eric) Collet, Rick (Andrea) Titus and Jennifer (Alan) Lanzador; cherished grandmother to seven, Noah, Haven and Romi Lanzador, Aaron and Emily Collet, Emma and Sydney Titus; brother, Bruce Bosansky. Preceded in death by her mother and father, Julia and Joseph Bosansky and her brother, Richard Shirey. Maryann had the gift of giving time to every person she met. There was no name she forgot, no face she did not remember, no person she did not embrace. Maryann was a featured fiber artist and her work focused on the struggles of the underprivileged woman. To have known Maryann was a gift, one that will never be forgotten. Her memory will forever live in celebration. Friends may call at the MORELAND FUNERAL HOME, 55 E. Schrock Road, Westerville, Friday 2-4 and 6-8 p.m.. Funeral mass will be held at St. Paul Catholic Church, 313 N. State Street, Westerville, Saturday at 10 a.m., Rev. Fr. Charlie Klinger, celebrant. Interment Resurrection Cemetery. In lieu of flowers, contributions may be made to First Love c/o St. Paul Catholic Church. Prayer service Friday at 8 p.m.. Dahil Sa Iyo (Because of you, I live)
Condolences
Jason Jensen (Arrowhawks Hockey) - Mar 5, 2010
Rick and family: We are very saddened by your loss. We wish you all the best, and look forward to your return to the ice!
Carolen Koleszar - Mar 5, 2010
MaryAnn was a rare and wonderful human. She was so uplifting to everyone she met–I feel grateful to have known her.
Jim and Patrick Adamo (Allegiance Hockey) - Mar 5, 2010
Rick and Family,
Our deepest sympathy goes out to you.
There are no great things, only small things with great love. Happy are those. –Mother Teresa
Melissa and Steve Mikes - Mar 4, 2010
Rick, and Family,
Melissa and I send our deepest of sympathies and condolences.
Steve Mikes
Sandy Nicholson - Mar 4, 2010
I had the pleasure of working at Huber Ridge with Mary Ann. The staff at Huber was definitely a "family". Sending you my prayers and sincere sympathy………Sandy Nicholson