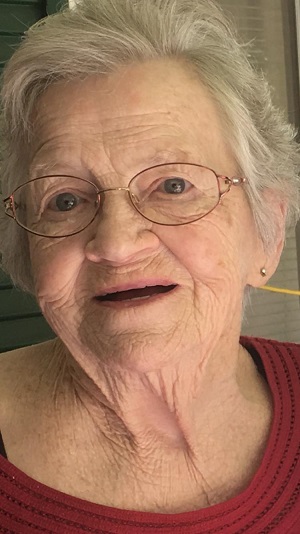 February 1, 1931 - February 3, 2018
Visitation
Wednesday, February 7th from 12-2 p.m. at Moreland Funeral Home
Service
Wednesday, February 7th at 2:30 p.m. at Northlawn Memory Gardens
Burial
Northlawn Memory Gardens
Mary J. Woods born February 1, 1931 was called to join hands with her late husband Peter W. Woods on February 3, 2018. Mary was born in Inez, Ky and was the soul survivor of 7 children. Preceded in death by her late husband, Peter W. Woods and her son, James P. Woods, and siblings Jenior, Grethel, Pauline, Cora Sue, James, and Niles. Survived by her son, Steven (Carmen) Woods, daughters-in-law, Connie Woods and Randa Woods; grandchildren Nicholas Woods, Devin Woods, Jim Woods, and Hunter Woods and great-granddaughter, Brooklyn Woods.
Mary had a love for your family and was always cooking her fried chicken and potatoes for anyone who stopped by. One of her great pleasures was to bake her cookies and brownies after school so her kids and all the neighbors could have a snack when they got home. Mary's second passion was her garden. She canned tomatoes, green beans, beets, carrots and anything else she could get her hands on. Mary also loved, loved, loved to go to the thrift store. She was a thrifty person for sure. She was always looking for that one bargain. On the weekends, she and Pete would go antiquing to find that gem in a rough. And they had plenty of gems to sort thru.
Mary was loved and will be missed by many. Her family and friends take comfort in knowing that she and her late husband Pete are now together in heaven along with her late son James.
Family welcomes visits at Moreland Funeral Home, 55 East Schrock Rd, Westerville, Ohio on Wednesday February 7, 2018 from 12- 2 pm with burial immediately after
Condolences
Linda Turney - Feb 5, 2018
We are sorry to hear of your loss. Prayers for you and your family.