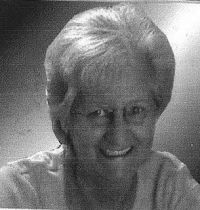 May 5, 1935 - November 5, 2012
Visitation
Thursday, Nov. 8th from 11 a.m.-1 p.m.
Service
Thursday, November 8th following visitation Sunbury Memorial Park
QUAIL
Mary Ruth Quail, age 77, of Lake Placid, Florida, formerly of Sunbury, OH, Monday, November 5, 2012. Author of a book of poetry "Love Forever and Always" under the name of Mary Ruth Brown. Member of Sunbury VFW Women's Auxillary and Sunbury Eagles. Survived by her children, Vickie Gariety of Lake Placid, FL, Richard (Brenda) Pletcher of Sunbury, Theresa Black of Columbus and Lori (Leroy) Ratcliff of McArthur, OH.; 9 grandchildren and 14 great-granchildren; brothers, Sid and Buck Brown; nieces and nephews. Preceded in death by her parents, Raymond and Daisy (Talladay) Brown; siblings, Naomi Williams, Darlene Wolfe, Andrew and Raymond Brown, Jr.. Friends may call at the MORELAND FUNERAL HOME, 55 E. Schrock Road, Westerville, Thursday 11 a.m.-1 p.m. followed by a graveside service at Sunbury Memorial Park, Sunbury, OH.
Condolences
Richard son - Nov 7, 2012
I will miss you mom. I love you