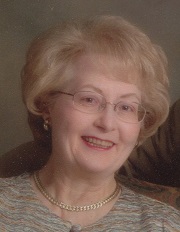 January 7, 1938 - December 8, 2017
Visitation
Tuesday, December 12th from 2-4 and 6-8 p.m. at Moreland Funeral Home
Service
Wednesday, December 13th at 11:00 a.m. at Moreland Funeral Home
Burial
Forest Lawn Memorial Gardens
Mary Darlene Papin, age 79, passed away Friday, December 8, 2017 at St. Ann's Hospital. Preceded in death by parents William and Fern Sprunger and husband Jack B. Papin. Survived by son Jack D. Papin; daughter Denise (Donald) Wartenberg; grandchildren, Daniel, Sarah and Jonathan; sisters Janice Stetler, Louise (Robert) Bobst and Delores (Kenneth) Bayes; numerous nieces, nephews and friends. Mary graduated from The Ohio State University and had a 49 year career as a Certified Registered Nurse Anesthetist. She worked in Labor and Delivery at Mount Carmel West Hospital and Riverside Hospital, and practiced in various medical facilities around Columbus. She was a long time member and past President of the Westerville Garden Club and a Life Member of the N.R.A. Her hard working, generous and caring nature reflected her compassion for others. Friends may call Tuesday from 2-4 and 6-8 p.m. at the MORELAND FUNERAL HOME, 55 E. Schrock Road, Westerville, where the service will be held Wednesday at 11:00 a.m.. Rev. David Bondurant officiating. Interment at Forest Lawn Memorial Gardens. Donations in her honor may be made to the Westerville Garden Club or the NRA Education Fund.
Condolences
marie and mike Davis - Dec 8, 2017
Dear Denise,Donald,Jack Dennis and Family. Heaven has received Mary and now she is with Mr.Papin. WE pray for strength and courage to mend our sad hearts,and to remember all the memories. WE love you all and again we have lost a great and loyal friend. love always marie, mike,Kevin and Andrew and their families.