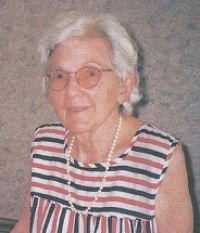 EBERLE
Mary A. Eberle, 87, of Westerville, passed away Saturday March 12, 2011 at St. Ann's Hospital. She was a great mom, excellent cook and enjoyed horses and dogs. Preceded in death by her beloved husband, Bill. survived by her sons;
Michael and Bill; grandsons Aaron and Andrew; great granddaughter Jennifer.
She will be missed by her friends at Corban Commons Apartments. Mom always enjoyed the simple things in life, shiny objects, nature, arts and crafts and the outdoors. The family made many trips to Lake Erie in the 60's and 70's for fishing and enjoying time with relatives in Vermillion, Ohio. Mom and Dad always planned great family vacations all over the U.S. every year. There will be not visitaton or service. Arrangements by the MORELAND FUNERAL HOME, Westerville, Ohio.
Donations may be made to the Capital Area Humane Society or th the Charity of your choice.