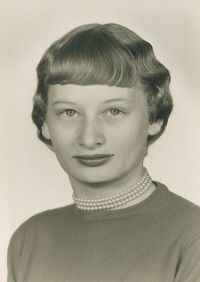 November 22, 1938 - July 7, 2011
Visitation
Tuesday, July 12th from 2-4 and 6-8 p.m.
Service
Wednesday, July 13th at 1:30 p.m. Johnson-Melick-Moreland Funeral Home
CRAYCRAFT
Mary Virginia Craycraft, age 73, of Columbus, OH. July 7, 2011 at home. Mary was born on November 22, 1938 in Honaker Va. She was the first daughter of Onslo and Margaret Hurt. She retired from State of Ohio after 43 years of dedication. Graduate of Centerburg High School and proud class of 1957. She proudly attend her yearly class alumni banquet after her graduation until she fell ill. She loved her graduating class reunions and family gatherings. Life member and past president of VFW Post 1598 Auxiliary, as well as member of Mt. Vernon, OH Eastern Star. She was also a avid Ohio State Football and Cincinnati Reds fan. A true Buckeye at heart. Mary proudly married William Craycraft on November 20th, 1973, she is survived by her husband of 39 years William Craycraft; Her pride and joy, her beloved daughter, Janet (Yusha) Mirza born in 1975. She has five grandsons, Michael, Sikander, Haider, Zia, Taahir; her beloved brother Clifford (Laddie) Hurt of Mt Vernon, Ohio and beloved sister Brenda (Stephen) Dardinger of Chillicothe, Ohio. Mary left her beloved nieces and nephews. Phil (Jeanne), Harry (Tammy), Allen (Deb) Hurt, Jeffrey (Amy), Brian (Amy) Dardinger and Wendi (Joshua) Dines. She also has fourteen grand nieces and nephews plus three great grand niece and nephews who all will miss her dearly. Proceeded in death by her beloved parents, Onslo and Margaret Hurt, and her very beloved sister and best friend, Eulalie "Lee" Hess. . Please call at the JOHNSON-MELICK-MORELAND FUNERAL HOME, 49 W. Church Street, Centerburg, OH Tuesday 2-4 and 6-8 p.m. where service will be held Wednesday at 1:30 P.M. Interment Bloomfield Cemetery. My dear Mom I miss you so dearly we all love you. May you rest in peace Mother and God look after you in Heaven as you did for me on earth. We miss you so dearly Mother. Earths loss is Heavens gain!
Condolences
Angela Granata - Jul 11, 2011
To all the Craycraft, Hurt and Dardinger Families I send my sympathy in your time of sorrow. She is now home and at peace. Mary was a very humble but sincere person who I truly enjoyed meeting. Her and Lee are probably having a decorating (or planning one) party. What reminded me of Mary was a quote from the Dalai Lama: "It is very important to generate a good attitude, a good heart, as much as possible. From this, happiness in both the short term and the long term for both yourself and others will come."
That is how Mary lived her life. Peace to all.
Janet - Jul 9, 2011
We miss you mom…..